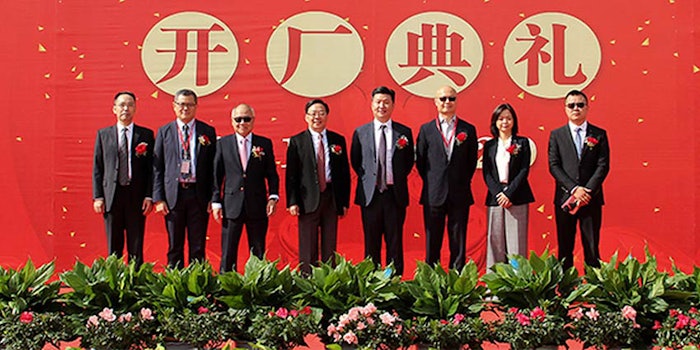 HCP Packaging, a packaging provider for cosmetics, skin care, toiletries and fragrances, has opened a new factory in central Jiangsu province of Eastern China, adding a 37,000 m2 facility within the company's Huai'an location.
Previously: Wave Mascara Brushes by HCP Packaging
The opening was celebrated with a traditional Chinese dragon and lion dance performance and ended with speeches from HCP Group CEO Eddy Wu and Alex Lee, Baring Private Equity Asia managing director. The ribbon cutting was also followed by a tour of the plant which highlighted the cutting-edge facilities supporting HCP's sustainability programs.
Related: Disruptive Beauty: Packaging Design & Philosophy
Production at the existing 30,000 m2 factory and 11,500 m2 metal pressing plant will continue in parallel.
With 100 injection machines and 10 dual coating lines, HCP Packaging's investment adds extensive manufacturing and decoration capabilities. The new facility employs 1,500 fully skilled technicians and operators, and also has a new central warehousing for raw materials and finished goods.
Features of the new plant:
New coating lines producing a 25% reduction in energy consumption
Zero volatile organic compound emissions through an advanced regenerative catalytic oxidation treatment system
Treatment system that enables 100% of water to be recycled
ISO class 2 clean room for manufacturing skin care packaging suitable for high-quality transparent products
Advanced systems to reduce and control hazardous waste
The facility is fully compliant with Environmental Health and Safety (EHS) regulations