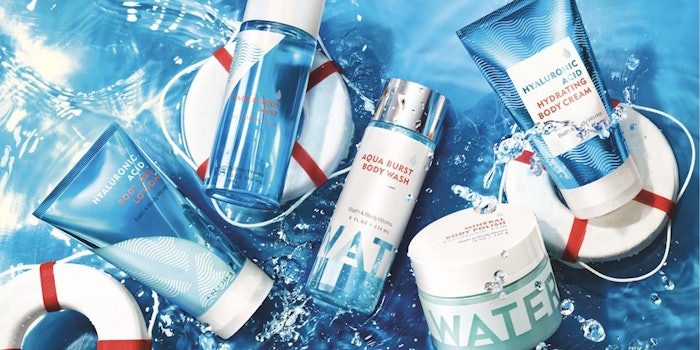 Bath & Body Works has announced the launch of its new body care collection formulated with hyaluronic acid, Water. 
Amy Hauk, chief merchant and EVP of merchandising at Bath & Body Works, said, "Our clinically-tested Water collection's main purpose is to instantly replenish skin's moisture—a key benefit we're thrilled to bring to our already-robust offering of hydrating body care products. Four hero products are made with the moisture magnet, hyaluronic acid, but all forms have unique purposes, whether to nourish, refresh, exfoliate or revitalize skin."
The Collection Includes 
Hyaluronic Acid Body Gel Lotion 

($16.50)

Hyaluronic Acid Hydrating Body Cream 

($15.50)

Mineral Body Polish with Hyaluronic Acid 

($18.50)

Face Sheet Mask with Hyaluronic Acid 

($4.95)

Face & Body Mist 

($16.50)

Moisture-Lock Body Balm 

($16.50)

Mineral Bath Soak 

($16.50)

Aqua Burst Body Wash 

($13.50)
Products are also available in Mini Body Wash, Mini Body Cream and Mini Face & Body Mist ($6.50 each).