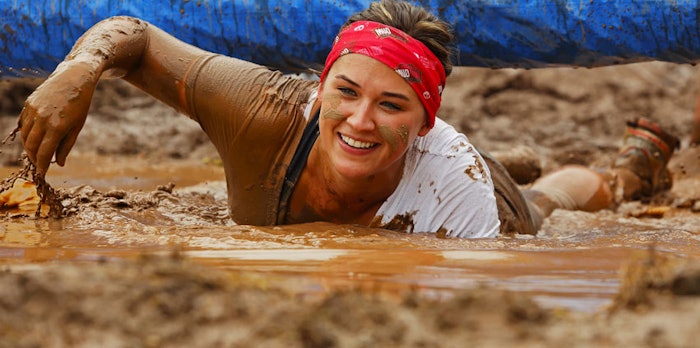 Soap & Glory has been named the first-ever exclusive beauty sponsor for all 2018 Tough Mudder North America Challenge events.
Starting in July and continuing through November 2018, Soap & Glory will be available at the Rinse Stations and Changing Tents during 21 Tough Mudder event days across the U.S. By transforming the stations and tents into "tropical pink oases," Soap & Glory will introduce Tough Mudder participants to its new bath and body fragrance family, Call of Fruity. 
Additionally, the brand will also debut a pink version of Tough Mudder's muddiest obstacle, Kiss of Mud. 
Kristina Amerigo, senior brand manager at Soap & Glory, said "At Soap & Glory we're all about supporting powerful women doing amazing things, which is why we wanted to partner with Tough Mudder. There is powerful synergy between our target demographic and the women who participate in these events—they are independent, empowered and on a mission to challenge themselves to be the best they can be! Tough Mudder is an incredible physical challenge that gets people muddy and sweaty … which presents the perfect opportunity for Soap & Glory to clean them up using our new scent-sational Call of Fruity body care range."
Jerome Hiquet, Chief Marketing Officer, Tough Mudder, "We are excited to combine the passion of the incredible force of women that represent the Soap & Glory brand with the inspiring Tough Mudder lifestyle and epic event challenges. The partnership brings to life our shared camaraderie and belief in helping each other to achieve the extraordinary. There is genuine beauty in pushing through mud, sweat and personal limits, and we are truly excited to integrate Soap & Glory with legions of courageous female members of Mudder Nation who participate in events across North America."