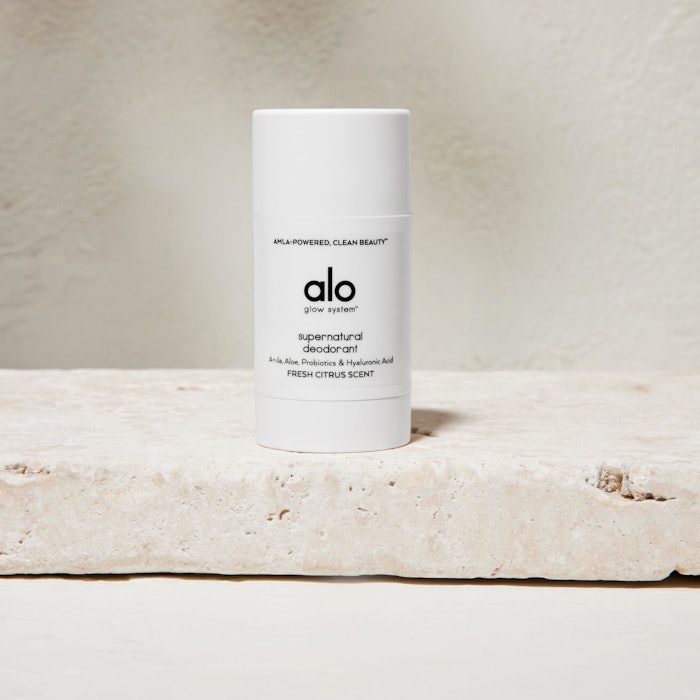 Alo is expanding into deodorant with the launch of the Supernatural Deodorant, using amla berry, vitamin C, tea tree oil, hyaluronic acid and anti-odor probiotics to soothe skin and prevent odors.
Related: APR Beauty Launches 100% Bamboo Deodorant
Amla berries are commonly used in Ayurvedic healing. It is the richest source of antioxidants in the world, according to Alo, with 75 times more antioxidants than goji berries, 60 times more than pomegranate and 50 times more than blueberries.
Aloe vera and lactobacillus ferment soothe skin, while avocado oil and hyaluronic acid nourish and moisturize skin. The glide-on deodorant is aluminum- and baking soda-free and available in a citrus scent or unscented.
Alo Supernatural Deodorant costs $18; available at aloyoga.com and revolve.com, with a physical retail launch planned for March 2022.
Ingredients: caprylic/capric triglyceride, helianthus annuus (sunflower) seed wax, emblica officinalis fruit extract, melaleuca viridiflora leaf oil, persea gratissima (avocado) oil, aloe barbadensis leaf juice, lactobacillus ferment, sodium hyaluronate, piroctone olamine, maltodextrin, tapioca starch scented caprylic/capric triglyceride, helianthus annuus (sunflower) seed wax, emblica officinalis fruit extract, melaleuca viridiflora leaf oil, persea gratissima (avocado) oil, aloe barbadensis leaf juice, lactobacillus ferment, sodium hyaluronate, piroctone olamine, maltodextrin, tapioca starch, fragrance (parfum)