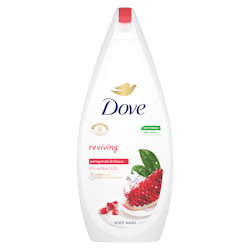 Dove's body wash range now features plant-based formulas and has added a new hypoallergenic body wash. The new formulations remove oils without damaging the skin barrier, per the brand, while helping the skin produce new lipids and ceramides.
The moisturizing formulations feature three skin conditioners and gentle cleansers and are purportedly as gentle to the skin as water.
The reformulations impact the following SKUs: Dove Gentle Scrub Body Wash, Dove Relaxing Body Wash, Dove Nourishing Care Body Wash, Dove Deeply Nourishing Body Wash, Dove Renewing Glow Body Wash, Dove Anti-stress Body Wash, Dove Soothing Care Body Wash, Dove Reviving Body Wash, Dove Hydrating Care Body Wash, Dove Pampering Body Wash, Dove Nourishing Silk Body Wash and Dove Pro Age Body Wash.
Meanwhile, the Derma Hypoallergenic Care Body Wash is fragrance-free, absent of any potentially irritating ingredients, per Unilever, and has been tested to relieve dryness in just one shower.
The range is packaged in 100% post-consumer recycled material (PCR) plastic bottles and is certified by PETA as both cruelty-free and vegan.
The brand is investing £4 million as part of a multi-media campaign set to go live in July across social, influencer, out of home and in-store activity. 
Chris Barron,  general manager personal care Unilever UK&I, said, "Having grown in value sales by 12.3% in the last year, we're always listening to what our customers want and developing products that suit their needs. We're confident our new plant-based formula and hypoallergenic offering will continue to drive growth for us and the category. Not only does the revamp tap into the growing demand for plant-based and cruelty-free products, but it's also a superior offering - providing shoppers with ultra-moisturising skin care."