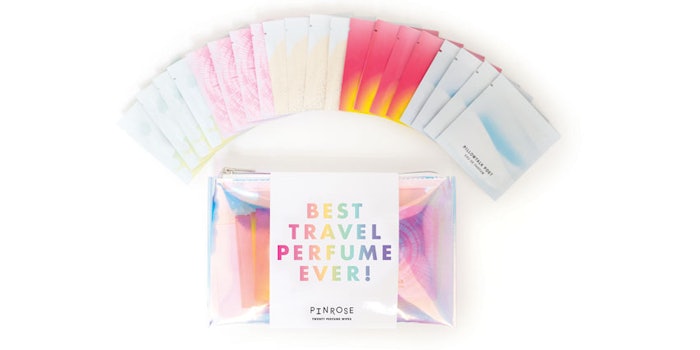 During a recent CEW market briefing, The NPD Group's executive director and beauty industry analyst, Larissa Jensen, explained that the total number of prestige fragrance launches rose 6% in 2017. While sales in the overall category rose 4%, select segments boomed, including e-commerce (up 23%), artisanal and single-note artisanal scents (up 14% and 13%, respectively), and naturally positioned fragrance (up 32%).
These numbers create a stark picture of a category that is undergoing profound change, one that increasingly favors unique brands and the digital channel. And both legacy and upstart brands are getting in on the action.
Optimizing Discovery
Pinrose launched in 2014 as an online-only brand (see sidebar). To help consumers to pair with their ideal scents, co-founders Erika Shumate and Christine Luby developed an algorithm based on quiz data from about 500 women. The result was a quick quiz that consumers could take on their phone or desktop to generate an ideal fragrance recommendation.
The original quiz included consumer preferences on songs, but that was later phased out given the impracticality of translating the experience in-store. Today, the Pinrose quiz comprises 11 pairs of shapes and colors. Consumers select one option from each pair, which then generates a selection of fragrance suggestions that reportedly match the emotional and aesthetic profile suggested by the consumer's selections. Each product page has a Pinterest board and soundtrack to further evoke the emotional identity of the scents.
Shumate says that about 60% of the people who land on the Pinrose home page take the quiz. Typically, shoppers review their results and purchase a single sample or sample starter kit "to see if the quiz got it right."
When these consumers come back to the brand they either purchase a full-sized bottle or become a Petal Pack buyer, which allows them to customize each order. These shoppers replenish at a high rate, says Shumate. She adds that women typically begin with the brand's simpler, entry-level fragrances and gradually work their way up toward more daring scents.
Shumate says that her testimonials show that people are becoming more engaged with fragrance through the Pinrose system. She adds that the quizzes and sampling options give these shoppers a sense of control and confidence.
Wipes: Rethinking Sampling
Since its inception, Pinrose allowed consumers to order samples of fragrances in order to experiment on their own terms before making a full-bottle purchase (50 ml bottles currently retail for about $65). However, traditional sample vials were prone to breaking or leaking. Sprays had their own challenges. Pinrose settled on a simple solution: wipes.
The wipe format gave the consumer more control of application, they were easy and legal to ship and, perhaps because of these advantages, they became being a popular alternative to a bottle.
Shumate and Luby found that some consumers preferred the wipes to other formats for daily use. As a result, Pinrose introduced its Petal Packs, which allow consumers to customize their orders, adding three to four fragrances at a time. The brand also offers a Rollerball Style Kit.
An Instagrammable Fragrance
Pinrose has invested in influencer platforms and Instagram, but there has always been a critical challenge: fragrance is perhaps the least visual category in all of beauty.
That's why the brand launched Secret Genius Shimmer Mist (1.7 fl oz), "a sheer pink and silver iridescent shimmering body mist scented with the brand's most popular fragrance, Secret Genius," which blends vanilla, sandalwood and caramel notes. The mist contains 3% fragrance oil, hydrates the skin and imparts small, iridescent pink and silver sparkles.
The Shimmer Mist is exclusive to Sephora and available for $42 on Sephora.com, Pinrose.com and select Sephora stores. The mist gives consumers a different, fun way to experience fragrance, says Kate Rose Kazaryan, the brand's PR and marketing director.
The product's clear bottle allows shoppers to clearly see the sparkles contained within, while the glittering nature of the mist offered Pinrose a new way to present the brand on social media feeds—particularly Instagram.
Shumate says that, for now, Secret Genius will be the brand's lone Shimmer Mist.
Fragranced Body Ink Creating New Excitement
Amkiri Ltd. has launched its Visual Fragrance technology, a patented formulation comprising scented crème-like "ink" that can be painted onto the skin using the brand's Brush Wand, FreeHand Wand, stencils and stamps.
Amkiri's ink reportedly adapts to the natural elasticity and movement of the skin, allowing any visual designs created by the user to dry smoothly and remain durable. The scent can last for as long as 12 hours, according to the company. The technology thereby combines the virtues of body art, cosmetics and fragrance in an eye-catching, Instragram-friendly format.
Amkiri will introduce its first products in May 2018, with a wider launch planned for later in the year. The company is reportedly "building significant partnerships" with several global beauty, fine fragrance and retail brands.
Howard Socol, a partner in the enterprise and former chairman and CEO of Barneys, New York, said, "I have spent 40 years in the retail industry observing consumer reaction to products, and what stands out to me most about Amkiri is how people of all ages and from all walks of life react to the experience for the first time. Whenever someone sees Amkiri, their instinctive response is to ask to try it out on themselves, followed by immediately enquiring where and how they can purchase the product. I have rarely viewed such spontaneous consumer excitement."
Fragrance Portability and New Applicators
Just as Pinrose used wipes to develop new ways to apply fragrance and make scents more portable, established brands are finding unique ways to give consumers new experiences.
Recently, Kenzo introduced Flower By Kenzo the Cushion, a design inspired by the cushion makeup format, which allows consumers to apply the fragrance in the form of an "aerial gel texture" that leaves "a velvety finish and an irresistible feeling of freshness on application," according to the brand. The on-the-go compact, which retails for $34.50, features an "ultra-light" design and integrated mirror.
The powdered floral scent comprises notes of Bulgarian rose, cassis, violet, vanilla and white musks.
Similarly, Chanel's Chance Eau Tendre imparts its fruity floral scent, comprising notes of grapefruit and jasmine, via a cushion compact. Demeter also offers its own version of the cushion compact format.
New Notes
Avestan, from the disruptive house of Deciem, is a new line of scents inspired by specific locations and unusual fragrance cues, including A Violin Atelier and the Svalbard Seed Vault in the Arctic. The brand's range is available in eau de parfum, parfum concentré and candle formats, as well as in a lifestyle line that includes shampoo, conditioner, body wash, body lotion and bubble bath.
Avestan's Svalbard is described as "an ode to concrete corridors of Svalbard Seed Vault in the Arctic," Tibet is "a humble selflessness amongst the sands, rocks and gusts" of the eponymous country, and Printer's Ink, uniquely, is presented as "a fragrance for paper and luggage with borrowings from a heritage printer in central United Kingdom."
"Avestan is the embodiment of this pleasing unfamiliarity," founder Brandon Truaxe wrote on the brand's website. "It is a deviation from familiar notes that move us through the past. It is an exploration of the untried. It is a journey to create new meaning through scents. It is a departure from lavender and rose to an unfulfilled journey of unfamiliar notes: clays, stems, saps, places and moments. Avestan is an avant-garde play on nature—one that disallows the mind to identify but creates instead a welcomed occasion to explore."