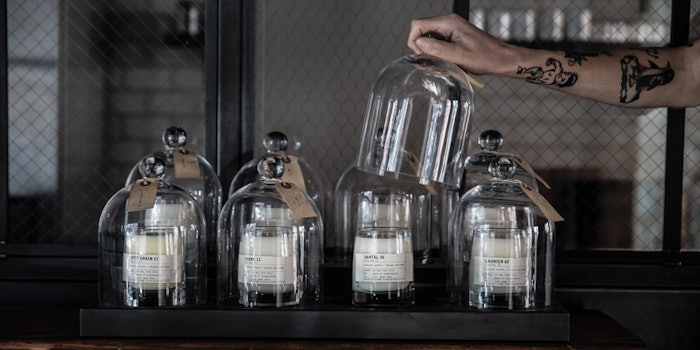 Le Labo founders Fabrice Penot and Eddie Roschi broke all conventional business wisdom when they began their perfumery with no formal investor backing and no advertising. Their approach was to create pure, clean fragrances without the typical preservatives and animal testing relied upon by some commercial competitors and to offer an in-store experience that reflected the boutique, artisan traditions of perfumery.
How has the brand—now owned by Estée Lauder—stayed true to its manifesto of being an artisan product for conscientious consumers, while opening more stores and competing in a growing market?
"An Extension of Who We Are"
Penot and Roschi founded Le Labo in 2006. According to its manifesto, which remains the cornerstone of the cult brand, "the future of luxury lies in craftsmanship."
Though the brand was sold to Estée Lauder in 2014, it remains a boutique brand in terms of limited availability, artisan products and its adherence to the founding manifesto. Le Labo's vision was for a pared-back, simplified approach to fragrance that championed the scent rather than being extravagant with packaging, advertisements, ambassadors and media exposure.
The brand's first store was in the Nolita neighborhood of New York, establishing the romantic, European aesthetic that now defines the more than 40 international flagship stores in locations such as Hong Kong, Tokyo, Paris, Melbourne, London and Dubai. At the core of Le Labo's success and longevity is sustainability. This principle has been part of the brand from its inception and both founders believe it is what will sustain their business into the future.
Roschi says, "We started Le Labo as an extension of who we are, of how we function day-to-day. As a brand and as individuals, we try to be socially and environmentally responsible. We've never dwelled upon the fact that we're vegan or 'green,' because we think that's how everyone should develop their business if they want to be around in 50 yearsa."
A Creative Autocracy
Estée Lauder acquired two high end, niche fragrance brands at the end of 2014: Editions de Parfums Frederic Malle and Le Labo. In 2016, it bought By Kilian. At the time, market experts speculated that the tide of major brand fragrances that were simply versions and variations of their existing scents was frustrating consumers seeking something new and original in a sea of sameness.
Euromonitor Internationalb noted then that the fragrance industry was valued at $48 billion, so investment in these brands was strategic and logical. By 2017, Estée Lauder's fragrance category was valued at $1.6 billionc, boosted by double-digit gains from Tom Ford, Jo Malone London and Le Labo.
Le Labo is one of the biggest niche brands in terms of sales, but its exposure in terms of advertising and marketing is limited. With more than 150 points of sale internationally, Le Labo is small in comparison to the other Estée Lauder brands. Roschi has praised the hands-off management Estée Lauder provides, insisting that Le Labo has maintained its autonomy regarding brand management.
In a recent interview with this author, Roschi says, "We're still very much in charge of product development: We don't test our perfumes externally and we don't ask outsiders for a second opinion. I firmly believe that creation is an autocracy, it's not a democracy. Especially in the case of perfumery, it's not ideal to ask people what they think, because when you do you can be unduly influenced, your concept becomes diluted and then the result is a mass product."
Signature Product Design
In every Le Labo standalone store and counter, 18 standard fragrances and nine ambient room scents are on-shelf. In addition, there are 13 exclusive scents that are solely available in the cities the products are inspired by. For example, Vanille 44 is only available in Paris, with Tokyo and New York also having their own signature scents.
Le Labo products are free of parabens, animal products, preservatives or artificial colors. The bottles are simple, adorned only with a wraparound label stamped with the Le Labo logo and typewriter-style font indicating the date of compounding, the store and the name of the buyer.
"Sales Are Just a By-product"
"Empathy, silence [are] a big part of our connection with the clients," says Penot. "We give them space to express themselves in a way that they usually don't in a traditional retail environment. It is key to really refine their search and narrow the selection of perfume they could try on skin. It takes sensibility to build the space and energy to let the magic happen. That's the main objective of our staff—sales are just a by-product."
Customers are invited to walk through the store, play with testers and settle into the worn, leather seating to consider scents rather than walking in and out. This is the nature of the relationship between Le Labo and its customers: to provide an experience of exploration.
For the full article, check out Global Cosmetic Industry's May digital magazine. 
Footnotes:
a www.lifestyleasia.com/hk/living/people/how-to-succeed-eddie-roschi-co-founder-of-le-labo/
b https://blog.euromonitor.com/the-global-fragrances-market-bringing-fragrances-closer-to-consumers/
c https://media.elcompanies.com/files/e/estee-lauder-companies/universal/news-and-media/media-resources/resources-and-reports/reports/elc-annual-report-2017.pdf