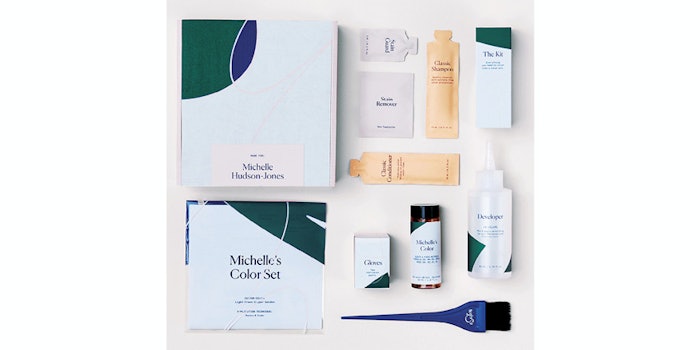 Launched in 2010, eSalon was an early adopter in the digital-first, customized at-home hair color category. Since it's launch, the brand has shipped more than 6 million customized kits, has established the capacity to process 40,000 kits daily and has been an Allure Best of Beauty winner four times over.
But the brand recently realized it needed a refresh that simplified its message to expose its core values and capture the discerning beauty buyer—without losing the color creativity it had already established. Francisco Gimenez, CEO and co-founder of eSalon, says that the company remains focused on democratizing the salon by making hair coloring more affordable, accessible and easy. He believes that by creating more volume, customized solutions can leverage mass manufacturing to control costs and enhance the value proposition for all consumers.
This refresh also helped shepherd eSalon into a new phase that now includes a unique retail partnership with CVS. Here's how they did it.
1. Revamped Logo
eSalon's new brush-stroke logo was designed to evoke the brand's expertise in customized hair color.
2. Packaging Makeover
The brand adopted packaging featuring an abstract interpretation of two hands coming together, which "symbolizes the collaboration between our colorists and clients," according to eSalon. The packaging includes ample white space for a clean, contemporary feel. Gimenez notes that it was important that the final design be playful and feature ample amounts of color.
3. New Product Names
The brand simplified product names to make their functionality more obvious to consumers.
4. A Wider Color Palette
While eSalon's formulas haven't changed, its expanded color palette allows the brand to offer lighter tints and bolder shades for every type of consumer.
5. Enhanced e-Commerce Experience and Website
eSalon launched a revamped website with improved navigation to guide consumers on their purchase journeys.
6. Education
The brand introduced an educational hub, called Color Mastery, which offers consumers pro tips, style inspiration and other hair color information.
7. Disrupting the Color Aisle
CVS comprises about 13-15% percent of the at-home hair color market in the United States, which made the retailer the ideal candidate for eSalon's physical retail expansion, says Gimenez. CVS, meanwhile, was looking for ways to offer consumers customized products in its stores without the downside of out-of-stock issues.
The result is the Hair Color Starter Kit, which retails for $15.99 and is available at 1,500 CVS stores across the United States. The kit features step-by-step instructions, a precision color matching wheel with which the consumer can take a selfie for an exact color match recommendation, and a prepaid access code that can be redeemed at the eSalon site, which guides the shopper through the process of crafting a customized color set. The kit is labeled with the shopper's name, stamped with the date, and shipped to the consumer for receipt within two to three business days.
Gimenez says that eSalon needed to distinguish itself in the CVS hair color aisle. "We're not box hair color," he explains, which is why the brand moved forward with a design that sought to disrupt the color aisle by standing out from the rows of similar boxes. The result was a transparent oval design featuring a picture of a customizable bottle. Gimenez notes that the packaging dedicates roughly half of its surface area to explanatory text in order to build understanding with the shopper.
The kit will be expanded to Target which, when paired with the CVS rollout, could potentially double new client growth, according to eSalon. In addition, the company is taking the on-site customization concept to the next level. eSalon will roll out its Polly Chrome experience, which comprises a vending-style machine that allows for on-site custom coloring production, at four sites in the United States later this year.
The company, which currently derives about 90% of its sales from the United States, will also expand to a more multinational approach.
New Headquarters
In addition to refreshing its brand, eSalon has moved into a 39,000-square-foot office in El Segundo, California, which houses the company's full-service Color Studio.
The Future of Customized Color
Gimenez says that the next generation of people who get gray—particularly millennials—will not want to use the same old coloring products. This creates new opportunities for a brand like eSalon to deliver customized solutions.