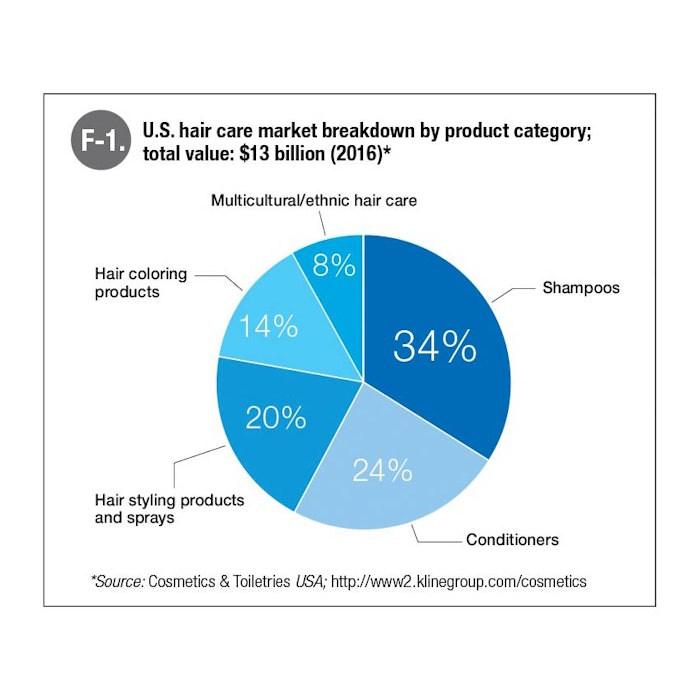 According to figures from Kline Group's Cosmetics & Toiletries USA report, the value of the U.S. hair care market was about $13 billion at the retail level, up 0.6% from 2015. For a breakdown by product category, see F-1.
Multicultural Hair Care on the Rise
According to Naira Aslanian, project manager, Kline Consumer Products, multicultural hair care has recorded the highest growth among all categories in 2016. Brands such as SheaMoisture continued to record solid performances due to their natural positioning and their mission to help all consumers with textured hair to manage their curls.
Following the rise and triumph of indie brands that offer products for consumers of all races and ethnicities, conventional brands have increased and expanded their product portfolios to include a broader spectrum of consumers.
Problem-solving Shampoos
Shampoos recorded a solid performance in 2016, Aslanian noted. Shampoos that offered targeted treatments for specific hair care needs drove the category, with marketing claims like volumizing, thickening, color protection and preservation.
Double-digit growth was also recorded by niche, independent brands, such as Not Your Mother's, which offers products for specific hair types, with problem-solving solutions.
Hair Coloring Thrives Online
Even though the box coloring and mass market coloring segment recorded a decline in 2016, Aslanian identified a rise of online companies such as eSalon and Madison Reed, which offer personalized, salon-quality colors to consumers.
Scalp Care on the Rise
Beauty mashups are all the rage, with products such as anti-pollution makeup driving new innovation in the beauty space—and hair care is no exception. Leading the way are a wide array of skin care-inspired breakthroughs that are expanding the range of claims across product categories.
The premise of "healthy scalp, healthy hair" has led to a range of new product innovations in the hair care space. For instance, when StriVectin entered the hair care space with products such as the Ultimate Restore range—comprising a shampoo, conditioner, Deep Repair Mask and Densifying Foaming Treatment—it signaled an uptick in claims migrating from the skin care space to hair care.
Sarah Jindal, senior innovation and insights analyst, beauty and personal care, Mintel, recently told Global Cosmetic Industry that StriVectin leveraged its skin care technology for scalp care to address thinning and lost hair, as well as other hair care needs.
Another example is the Clear brand, which focuses on scalp care. Its range includes Extreme Damage Relief Shampoo, which comprises ceramides and keratin to support scalp barrier strength and prevent hair breakage, the Hydration Fix range, which includes aloe and marine botanicals for moisture and shine, as well as the Color & Heat Conqueror Shampoo, which contains antioxidant-rich botanical extracts to promote the scalp's moisture barrier.
Scalp care has been a boon for exfoliating hair care products as well, including Briogeo Scalp Revival Charcoal + Coconut Oil Micro-exfoliating Shampoo, Christophe Robin Cleansing Mask With Lemon, Mustela Foam Shampoo For Newborns and Keranique Micro-Exfoliating Follicle Revitalizing Mask.
While scalp care products such as massaging and exfoliating solutions are widely embraced in Asia, an increased focus on this critical skin-hair intersection is taking hold in the west, with launches such as Verb Bring Your Own Verb Dry Shampoo, DevaCurl Buildup Buster Micellar Water Cleansing Serum, Christophe Robin Cleansing Purifying Scrub with Sea Salt and Rahua Color Full Hair Mask. These products highlight a wider increase in rinse-off hair treatments and hair masks, Jindal explained.
Something Extra
In addition, a rising number of styling products are incorporating additional benefits, such as nourishment, color protection, anti-aging, thickening, anti-hair fall or anti-pollution defense. Recent examples include Amika's The Shield Style Extending Spray, Moroccanoil's Hydrating Styling Cream and Phyto's PhytoSpecific Moisturizing Styling Cream.
Hair Care for Everyone
Traditionally, beauty and personal care consumers have responded to getting older by using products that mask the signs aging, including anti-aging skin care and hair coloring solutions. But Jindal explained that today's baby boomer knows that they're not going to be 25 again and instead are embracing an "aging well" philosophy that leverages one's natural looks and beauty care products to more gracefully engage the passing of time.
For instance, many consumers no longer attempt to mask gray hairs. One high-profile brand, White Hot Hair, offers hair care for older consumers with white and gray hair. The products are formulated for specific texture changes related to age. White Hot Hair's range includes the smoothing and brightening Brilliant Shampoo, which includes blue lupin extracts for diminished dullness and yellow tones, as well as Croda's Keravis hair strengthener; the Glorious Shampoo, which combats the dulling caused by environmental pollutants and moisturizes with white truffle; and the styling Shooshing Crème, which comprises white truffle and is formulated for short hair that requires greater volume, texture and definition.
As highlighted by White Hot, brands are increasingly aware that one product cannot fill every consumer's needs. In hair care, this includes products formulated for specific life stages. According to Theresa Yee, senior editor for beauty at WGSN Fashion, brands will focus products on different hair types, seasonal and weather conditions, etc. Yee added that skin care brands such as GeneU have taken personalized products to the DNA level, a trend which could eventually manifest in the hair space.
High Tech Hair
As biome-friendly brands and genetic testing concepts proliferate in the market, at-home solutions are becoming increasingly sophisticated. Yee noted that, in the era of fitness and health trackers, it's not far-fetched to assume that consumers will want to monitor the condition of their skin and hair in real time.
Famously, Yee noted, Kérastase recently partnered with Withings to unveil the world's first-ever smart hairbrush. The Kerastase Hair Coach Powered by Withings and its accompanying smartphone app are intended to help consumers prevent aggressive hair brushing—which often leads to damage, breakage and split ends—by using sensors built in to the hairbrush to inform users of the state of their hair and how they should be taking care of it.
Rapid Innovation
Trends are all well and good, but executing on emerging opportunities is a significant challenge for brands of every scale. In response to rising R&D needs, as well as concerns over speed-to-market, a number of beauty and personal care suppliers have instituted new collaboration models to accelerate their clients' innovation.
For instance, following the merger of the Dow Corning silicones business into Dow, the company has launched LabSense, which combines its scientific, ingredient and market insight resources to assist customers in speeding up product development in markets around the globe. According to Stéphanie Sandrock-Beunat, global strategic marketing leader, skin care, for The Dow Chemical Company, the combined business bring together specialized and sensorial ingredients, including rheology modifiers, silicones and conditioning agents.
Dow's market intelligence has tracked a number of trends, including multifunctional and sensorial products, anti-aging claims, long-lasting performance and more. In the "natural hair" space, Dow has created demo formulations comprising organic and silicone ingredients that offer hydration, softness and control to textured hair, without diminishing natural waves.
The company has also leveraged its silicone emulsifier for oil-in-water formulations such as facial lotions, sun care products and color cosmetics. Dow can also apply silicones to formulations to restore damaged hair, reduce combing force and protect against breakage. According to Sandrock-Beunat, the supplier has also developed applications for strong emerging categories like night hair masks, which can condition overnight and reduce frizz.
As the market has shown, consumers are seeking new claims and individualized solutions, even as suppliers and brands move faster to address them.