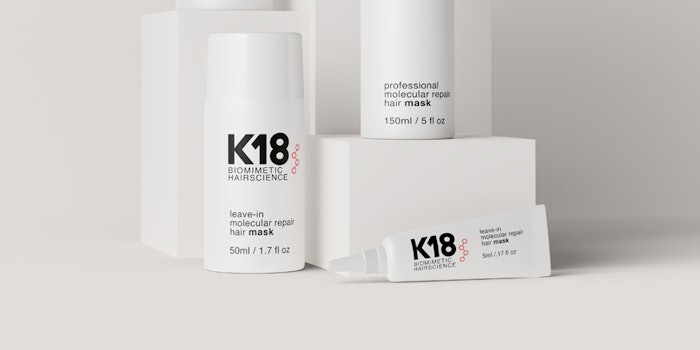 K18 Biomimetic Hairscience, a molecular hair care line, has launched its brand with at-home and salon hair care products. Global Cosmetic Industry recently interviewed cofounder and CEO Suveen Sahib about the brand's strategy.
Related: Living Proof Unveils Scalp Care Range
Both products are formulated with its K18Peptide, which works on all hair types and textures to repair damage from color treatments, chemical relaxing, heat styling and environmental stressors. 
The K18 Biomimetic Hairscience Leave-In Molecular Repair Hair Mask features the patented bioactive peptide, which purportedly strengthens and improves elasticity. The mask is said to visibly improve damage caused by bleach, color, chemical services, heat and mechanical styling.
For in-salon professionals, K18 has launched the K18 Biomimetic Hairscience Professional Molecular Repair Mist + Mask. Formulated with its patented bioactive peptide, this two-step treatment is said to prepare, protect and repair hair for in-salon chemical services.
The K18 line is formulated without sulfates, parabens, phthalates, silicones, artificial colors, sodium chloride, formaldehyde and formaldehyde donors.
"Healthy hair is born in the salon," says Sahib. "It is our mission to foster these unbreakable connections between the hair artists and their clients by providing the vehicles for them to create without boundaries."
He continues, "We are here to uplift the hair community with creativity, simplicity, and some fearlessness. It was important for us to launch in the pro market and also have a means for their clients to treat at home in between appointments."
Sahib adds, "The pandemic affected this as well but it more so about giving a full offering of treatment."
Global Cosmetic Industry also asked Sahib about the post-pandemic-related opportunities for the brand.
He notes, "We believe in radical speed and simplicity. After years of research, it is proven hair can perform better with less. With the power of one product, we believe you can replace the need for 10 others. Simply put, less really can be more."
Sahib continues, "There is freedom in that for the consumer. In the post COVID-19 landscape, salons have less space and not as many resources so speed and simplicity are key to their business.
"With this technology stylists can service more clients while delighting them—no time for waiting in the basin 30-50 minutes. K18 is simple, works fast and the fact that it can be used with every kind of chemical or styling service makes it a unique catalyst that helps stylists do more with less.
Sahib concludes, "Overall, we are obsessed with hair happiness as a vehicle to unlocking confidence. We're challengers who ask: If damage wasn't an issue, how many times would you reinvent yourself? We have strengthened the canvas for both stylists and customers, especially post-pandemic."