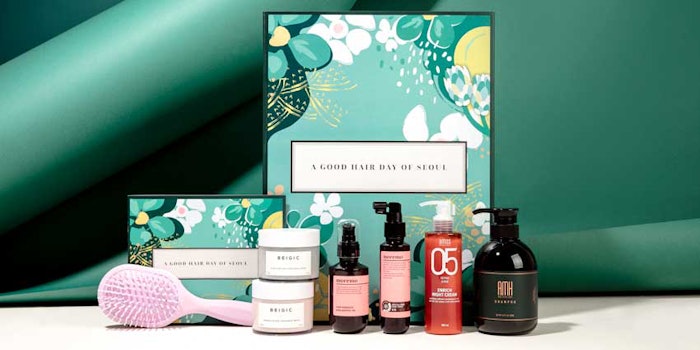 K-beauty, specifically skin care, has taken the Western markets by storm. Now, Umma Holdings wants to introduce U.S. consumers to Korean hair care with the launch of its second K-beauty curation box, A Good Hair Day of Seoul. 
Similar to skin care, Korean hair care follows a regimen. Launching on Costco.com on March 1, 2019, consumers can take advantage of A Good Hair Day of Seoul—comprising K-beauty indie brands—which fulfills the specific steps of the Korean hair care regime. 
What's Inside?
Beigic Scalp Revival Purifying Scrub: Meant to deeply cleanse the scalp of dead skin and sebum build-up, this scrub contains sea salt, mint menthol and green coffee. 
AMH Shampoo: This shampoo was created to detoxify and nourish the roots of hair while panthenol works to keep the cuticle soft and smooth so as to reduce tangles. 
Beigic Damage Repair Treatment Mask: Utilizing green coffee bean oil, argan oil and rosehip oil, the hair treatment is used to support hair strength and smoothness.
Moremo Hair Essence Delightful Oil: The hair oil helps to seal hair cuticles with hydration and smoothness without a sticky residue. The oil was created to prevent tangling and protect from heat damage. 
Moremo Revitalizing Hair Tonic A: With the help of seven plant root extracts, the tonic is meant to revitalize and nourish the scalp.
Amos Professional Repair Shine Enrich Night Cream: The cream was created to provide hair with a healthy, shiny appearance by maintaining the water-oil balance of hair at night. 
White Rabbit Voluminizing Air Brush: The brush's S-shaped teeth reportedly blend and flew through even the most tangled hair to create space between hair and scalp. The brush can also be used in the shower to distribute hair treatments throughout the hair.