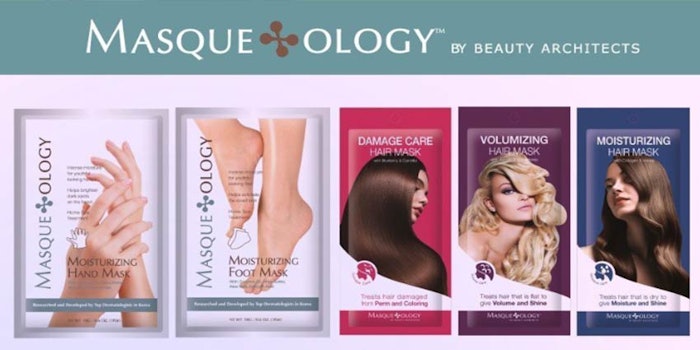 Masqueology, which has brought K-beauty sheet masks to the mainstream via a deal with Walmart, has expanded its mask range to include solutions for the hair and body.
The move is no surprise as hair masks have become a hot segment in beauty.
The company currently offers Hand and Foot Masks at spas, Costco and, now, Walmart. Deep treatment hair masks will follow this winter. The products come in single-use pouches infused with ingredients, which coat the hair and can be rinsed off after 15 minutes.
The inaugural trio of masks include the Damage Care Hair Mask – Blueberry & Camelia Moisturizing Hair Mask, Collagen & Honey Volumizing Hair Mask and Keratin & Macadamia.
"The core of Masqueology is creating products that are easy, fast, and effective," said CEO Phillip Ha. "New specialty masks and skincare products never before seen are on their way early next year, so keep a lookout for Masqueology. To achieve this goal, we constantly strive to find the most innovative ways to deliver the best ingredients. Innovation is the driving force behind Beauty Architects."