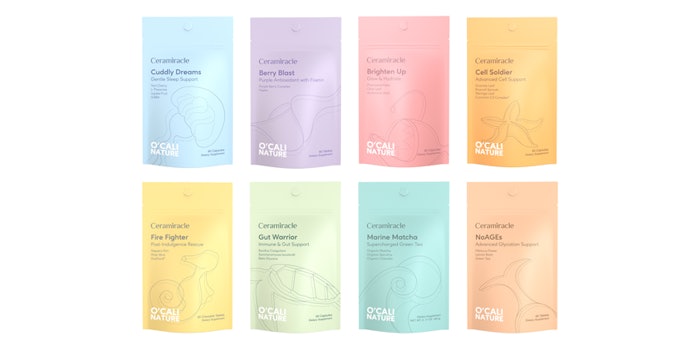 Ceramiracle's O'Cali Nature line was created to "epitomize the healthy, Californian lifestyle."
According to Ceramiracle, the line contains whole food actives while also utilizing environmentally conscious packaging. Following the April 2020 launch of the supplements, O'Cali Nature skin care products will be introduced in May 2020.
O'Cali Nature supplements include:
Brighten Up–Glow and Hydrate
Cuddly Dream–Gentle Sleep Support
Gut Warrior–Immune and Gut Support
Marine Matcha–Supercharged Green Tea
Berry Blast–Purple Antioxidant with Fisetin
NoAGEs–Advanced Glycation Support
Cell Soldier Advanced Cell Support
Fire Fighter–Post-indulgence Rescue
According to Ceramiracle, the supplements utilize pouches as a low-impact alternative to plastic bottles to reduce carbon load and wastage. Additionally, it partnered with 1% For the Planet, committing 1% of its revenue to support the oceans. Ceramiracle is making the effort to show the oceans love by aiding in their cleanup and, as a reminder, O'Cali Nature products are marked by illustrations of different marine animals on each package.