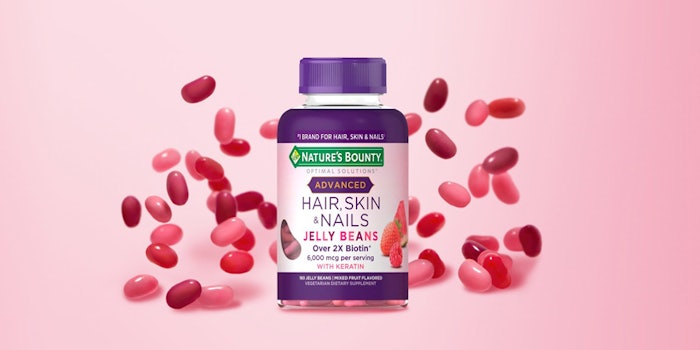 Nature's Bounty has unveiled its Advanced Hair, Skin & Nails Jelly Beans that includes keratin and twice the amount of biotin as the brand's original formula.
Previously: Sommer Ray Introduces Ingestible Beauty Brand
Each serving (or two jelly beans) includes 6,000 mcg of biotin to support hair, skin and nails, along with added keratin and vitamins A, C and E.
The jelly beans contain no artificial flavors or sweetener, are free of lactose and soy, and are made with a non-GMO formula.
Report: Ingestible Beauty
Aileen Stocks, general manager, VMHS, The Bountiful Company, said: "The future of beauty supplements has a new form—jelly beans. As a pioneer and leader in the beauty supplement space with more than 20 years under our belt and innovation at the forefront, we know what consumers are looking for—trusted products backed by science, and made with the purest ingredients. We're excited to offer a format that's completely new to consumers and are proud to once again help shape and build the trajectory of the category, as we expand our beauty supplement footprint."