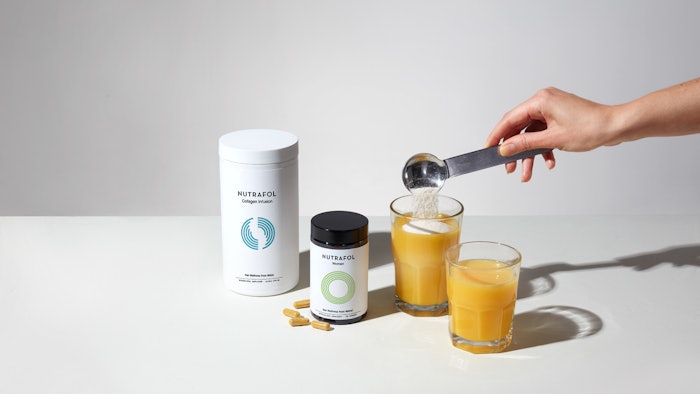 Image source: Nutrafol
Nutrafol has launched its Collagen Infusion, a collagen powder formulated specifically to strengthen hair fibers, and combat breakage and weakened hair caused by aging.
Starting April 2022, Collagen Infusion will be available for retail in hair salons. 
Collagen Infusion is an updated collagen formula with natural ingredients that leverages biotechnology to boost collagen levels that decrease with age. According to Nutrafol, this product focuses solely on the essential elements of hair and scalp health: protecting collagen, strengthening hair fibers and replenishing collagen levels from within.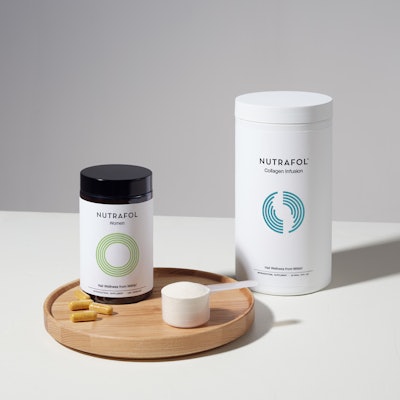 Nutrafol's Collagen Infusion is formulated with sustainably sourced, bioavailable marine collagen peptides and a protective mix of Coq10 plus a blend of citrus flower acids. The amino acids reportedly work alongside the marine collagen peptides to replenish existing collagen peptides and build the foundation for hair follicles. Together, they deliver proteins to build stronger hair that can grow longer. 
Designed to be taken alongside the brand's hair growth supplements, the collagen-targeted booster is a dissolvent and can be added to any liquid without changing the taste.
Previously: Nutrafol Studies Hair Growth Across Ethnicities with its Supplements