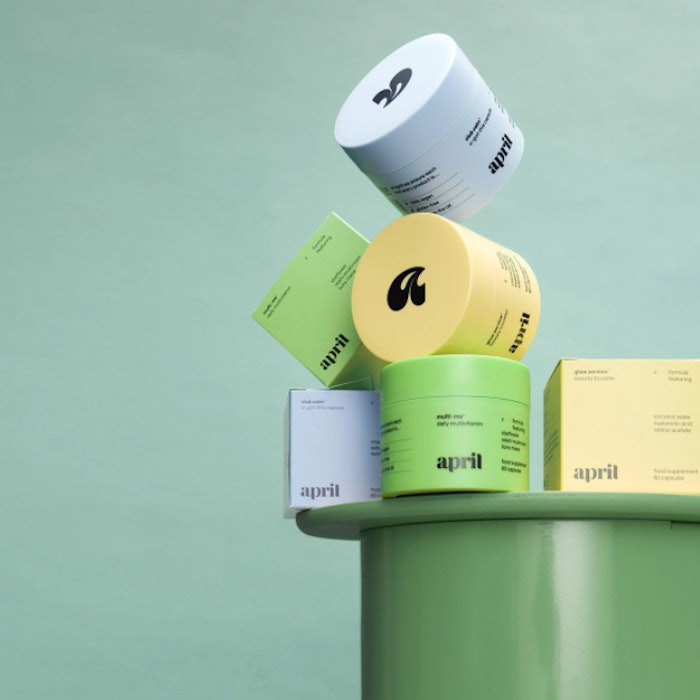 Estrid has introduced a sister brand focused on vitamin supplements with vegan formulations to support the immune system and well-being—April. The debut launch includes the Multi-Me Multivitamin, Glow Service Vegan Collagen Support and Club Calm U-Got-This-Capsule.
Related: Nootropics and Nutricosmetics Fuel Beauty in 2022
The April brand was created with the help of nutritionists and scientists. Its products are designed in Sweden and made by suppliers based in the United Kingdom. Every product has free and climate-compensated shipping and options for refill orders in compostable pouches.
The Multi-Me Multivitamin supports energy levels and contributes to the normal function of the immune system. It is formulated with a blend of vitamins, minerals and botanical extracts. It is specifically designed for women. Some of the key ingredients include lion's mane, reishi mushroom, starflower oil, vitamins C, D2, B2, B6 and B12, selenium, folate, copper, magnesium, niacin, iron and zinc. It costs £14.95 ($19.48).
The Glow Service Vegan Collagen Support is designed to contribute to the body's natural collagen production with a vegan formula. Some of the key ingredients include biotin, hyaluronic acid, retinol, copper, selenium, zinc, vitamins A and C, coconut water and the brand's SkinAX2 complex. It costs £15.95 ($20.78).
The Club Calm U-Got-This-Capsule is designed to support mental clarity and balance, improve psychological functions and reduce fatigue. It is formulated with lavender, lemon balm, bladderwrack, rosemary, chamomile, vitamins B6 and B12, magnesium and the brand's KSM-66 ashwagandha and Extramel complex. £16.95 ($22.09).
The debut products from april are available on its official website.