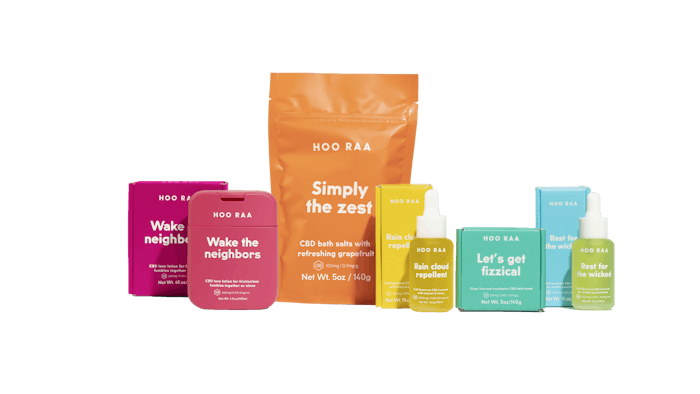 Hoo Raa, a new sexual wellness brand from Tenacious Labs, has debuted with five products that use CBD and other natural ingredients to enhance mood, sex and sleep. The brand designs its products to support a specific sensory experience.
Related: oOYes Uses CBD-infused Honey for Sexual Wellness
The debut range from Hoo Raa includes CBD-infused oral elixirs, bath bombs, intimacy enhancing lotion and sleep aid.
Wake the Neighbors is a CBD lotion that is formulated to enhance sexual experience. It costs $35.
Rain Cloud Repellent is a lemon-flavored tincture with full-spectrum CBD and vitamin C oil to enhance mood. It costs $70.
Rest for the Wicked is a mint-flavored full-spectrum CBD tincture that encourages deep sleep.
Simply the Zest is a collection of CBD bath salts that combines citrus, grapefruit and CBD to refresh and relax. It costs $25.
Let's get Fizzical is a bath bomb with CBD, lime and eucalyptus to refresh and relax. It costs $10.
Hoo Raa's website is www.wearehooraa.com.