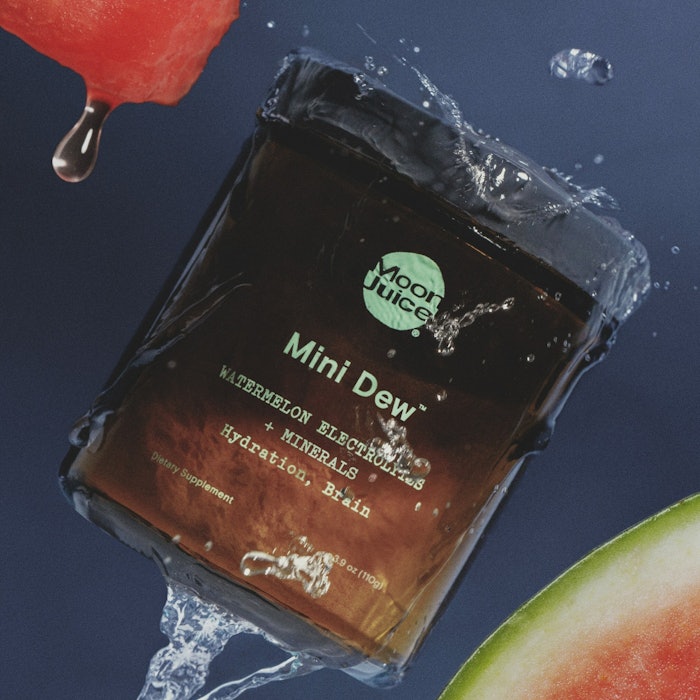 Moon Juice's new Mini Dew daily electrolyte and mineral powder supplement features a microplastic-free Himalayan pink salt electrolyte that has 270 mg of sodium and five chelated minerals, including potassium and magnesium, to facilitate easy absorption and support hydration. (Full ingredient list below.)
Unlike fitness-centric hydration products, the new supplement is positioned to serve consumers' daily activities and needs, including cognition/brain function, hormonal balance, energy, and skin and hair wellness.
Furthermore, the supplement addresses widespread mineral imbalances and deficiencies, as well as chronic dehydration.
Featuring a "full spectrum of ionic trace minerals," per Moon Juice, Mini Dew comprises no sugar and has a watermelon flavor.
"Since I love to stack my habits, we turned Mini Dew into a two-in-one mid-formulation," said Moon Juice founder Amanda Chantal Bacon. "Not only is it an electrolyte; it's also a daily comprehensive mineral supplement. I don't think enough of us realize how important minerals are. 90% of us have a mineral imbalance or deficiency, and a lot of that has to do with our food supply. Modern agricultural practices have stripped the soil, and even if you eat organic food from the farmer's market, it's void of the full spectrum nutrients you need." 
Ingredients: Calcium (as Calcium Bisglycinate), Magnesium (as Magnesium Gluconate), Zinc (as Zinc L-Methionine), Selenium (as L-Selenomethionine), Copper (as Copper Bisglycinate), Chloride (as Himalayan Pink Salt), Sodium (as Himalayan Pink Salt), Potassium (as Potassium Citrate), Ionic Trace Minerals, Boron (as Boron Glycinate), Malic Acid, Organic Flavors, Calcium Silicate, Organic Stevia Leaf Extract (Reb A), Beetroot Juice Powder (Color)