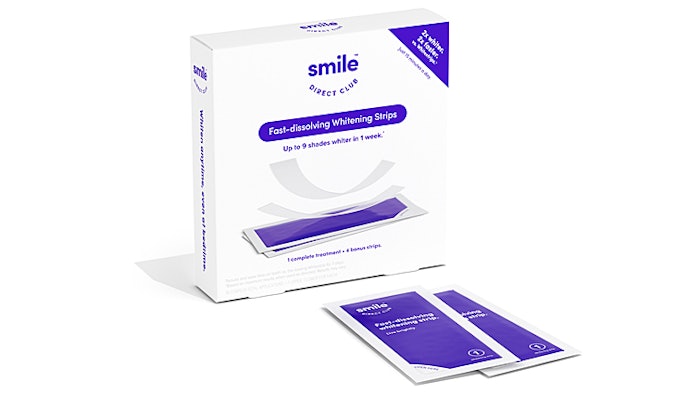 SmileDirectClub has added Fast-Dissolving Whitening Strips to its whitening product line and is partnering with Peloton star trainer Tunde Oyeneyin to promote the new launch.
Related: Oral Care Refresh: Intersecting Function with Beauty and Innovation
The Fast-Dissolving Whitening Strips are designed to be worn once a day for 15 min. After seven days of consistent use, teeth can reportedly whiten teeth up to nine shades, according to SmileDirectClub.
Throughout the partnership with Oyeneyin, the trainer will share how she incorporates Fast-Dissolving Whitening Strips into her self-care routine and how they have positively impacted her confidence.
The SmileDirectClub Fast-Dissolving Whitening Strips are available as a one-week or two-week treatment, for $30 and $45, respectively, and are available on Amazon. The company also plans to launch at more than 4,600 Wal-mart locations in late February and other major retailers throughout Q1 2022.
Amy Keith, general manager of global oral care at SmileDirectClub, said, "With the introduction of the Fast-Dissolving Whitening Strips, SmileDirectClub is revolutionizing the way we look at whitening teeth. The new Strips allow customers to customize their teeth whitening journey by applying them anywhere, anytime, making teeth whitening convenient and accessible no matter where or when you choose to whiten."
Ingredients: PVP, Hydrogen Peroxide, Pectin, Glycerin, Water (aqua), Polycarbophil, Pentasodlum Triphosphate, Sodium Hexametaphosphate, Hydroxyapate, Polysorbate 80, Sucralose, Aroma.