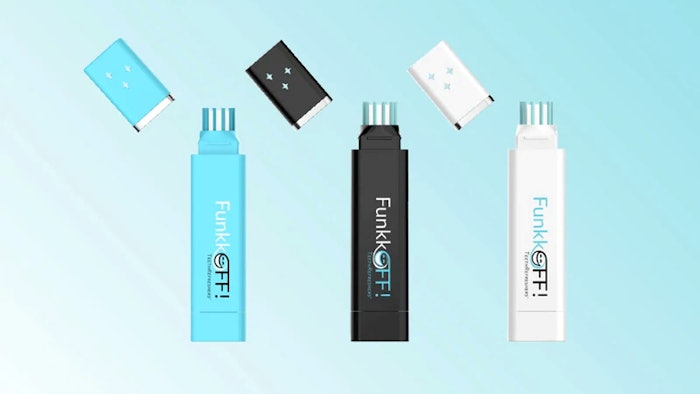 Image source: FunkkOFF! Inc.
FunkkOFF! TeethRefresher is a 2-in-1 toothbrush and toothpaste. This product comes complete with a built-in, non-foaming paste and pocket-sized brush.  
Featured: Oral Care Refresh: Intersecting Function with Beauty and Innovation
FunkkOFF! offers cleaning in-between daily brushing to refresh teeth back to white after food or beverages that are known to stain teeth, such as coffee or wine.
According to the company, this product can be used up to 30 times with just a twist, brush and rinse. It is also 100% natural, fluoride-free and BPA-free.
Ingredients: Glycerin, Hydrated Silica, Water, Spirulina Extract, Sodium Cocoyl Glutamate, Cellulose Gum, Menthol, Mentha Piperita (Peppermint) Oil, Stevia Rebaudiana Leaf & Stem Extract, Potassium Sorbate, Citric Acid, Natural Flavor.