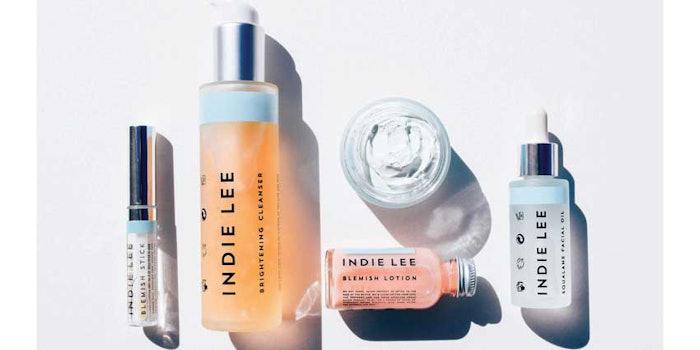 "The business had been doubling every year and we were getting inundated with international requests," says Indie Lee, founder of the eponymous eco-chic lifestyle brand. "I knew I'd hit a point where I could only do so much with the limited resources—time, money and manpower. If I was going to be true [to the brand mission] and create that legacy, I needed help."
That's when Ancora Investment Holdings founders Lori Perella Krebs and Nicky Kinnaird stepped in to provide a capital investment, as well as access to critical knowledge and resources that could support the brand in its next stage of growth.
The Niche of Empowerment and Authenticity
The Indie Lee brand was created in the wake of its founder's battle with a brain tumor, which inspired her to create a line of safe, sustainable and luxurious beauty products.
"What really impressed us about Indie Lee was the authenticity of the founder and her commitment to a non-toxic lifestyle," says Kinnaird. "Indie represents a hybrid of natural skin care amplified by science and inspired by her life experience. [Her] dedication to education and building awareness around her lifestyle proposition was impressive. We could see her desire also to evolve into a lifestyle brand, branching further into the wellness space."
Krebs adds, "As we look at the shift over to clean beauty, we see a need for someone to champion that shift and have an authentic voice to help educate and empower others—that's where Indie has a real niche."
"Brands have got to be true to their beliefs and philosophies," says Kinnaird. "For us it is very much about the authenticity of the mission—it's not something drawn up by a marketing department, but something that the founder lives and breathes … The most successful brands are able to build communities outside the confines of the brand experience."
Quick Impact on the Brand
Ancora represents a new type of investor platform, one which draws on Krebs' and Kinnaird's histories in the beauty industry to provide operational expertise and financial skills to fuel early stage passion-led brands to the next tier of growth.
The firm is able to provide growing brands with expertise and senior level resources they couldn't otherwise access or afford, Krebs and Kinnaird say, including digital efforts, regulatory and supply chain resources, and an in-store training team.
"This is where we can make a quick impact to the brand," says Krebs. "We're finding it's very important to the retailers we're speaking with, because as much as they want to support and give brands like Indie Lee a voice, they have always been a little wary or nervous to onboard brands that don't have that infrastructure that can support them in-store and through the supply chain."
This allows brands to grow their strategic retail partnerships while freeing founders and their teams to focus on their core brand mission.
"We're here to help build the brand legacy and help tell the brand story," Krebs adds. "We're not just simply in [this] looking for a quick exit. We're looking to build a long-term brand."
"This was not just about money for me," says Lee. "This was [about] finding people who had the expertise and understood what I was looking to create and believed in me."
Building the Indie Lee Lifestyle
Today, Indie Lee is known for its eco-chic beauty products, including its Squalane Facial Oil, Clearing Mask, Swiss Apple Serum, Blemish Stick, Grapefruit Citrus Nutrient Oil, Coconut Body Scrub and more. But soon the Indie Lee name could expand to encompass a broader wellness lifestyle concept.
"Everyone's looking at self-optimization," says Kinnaird. "That encompasses beauty, health, wellness fitness and lifestyle—all of which are increasingly intertwined. It's what we're personally passionate about and it very much reflects customer thinking."
Lee says she would like to see her brand's launches expand into the lifestyle arena and to create a larger, more robust education and community platform to share her mission.
She concludes, "This is a very personal journey for me. Nicky and Lori wouldn't have invested in [the brand] and me if I wasn't so passionate about creating change."