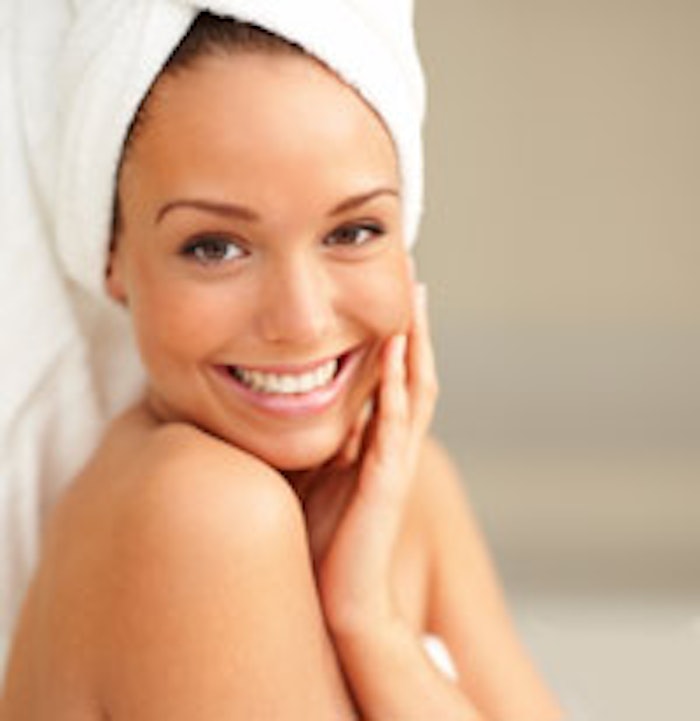 A cosmeceutical is an ingredient with biological effects, facilitating skin health or providing protection against degenerative skin conditions. Exposure to ultraviolet light, chemicals and other factors that induce the formation of damaging free radicals that cause the skin to age rapidly. Apparent deteriorative oxidative changes triggered by free radicals include wrinkling, hyperpigmentation (excessive tanning) and inflammation (sun burn).
Aging of the skin is a cumulative effect influenced by factors such as environmental pollution, chemicals, and atmospheric temperature fluctuations. Ultraviolet A and B radiation from sunlight penetrate the skin and accelerate damage due to free radicals. With prolonged exposure to sunlight, collagen and elastin fibers that maintain the elasticity and integrity of the skin are broken down by inherent enzymes, and skin texture deteriorates.
Natural cosmeceutical ingredients include antioxidants, antimicrobial agents, skin lightening agents and other herbal extracts. Botanicals, from which these extracts are prepared, have a long history of traditional "cosmeceutical" use, although the term itself is of recent origin.
Innovation in processing technologies and natural product chemistry have enabled the development of healthful, consumer friendly naturals for cosmeceutical use, from traditionally used botanicals. A few examples are presented here:
White Tetrahydrocurcuminoids derived from the yellow curcuminoids extracted from Turmeric roots provide antioxidant, bioprotectant, skin lightening (US Patent 6,653,327) support. Branded as SabiWhite® from Sabinsa, the non-staining turmeric.
Boswellia serrata Extract derived from the gum resin of Indian frankincense inhibits pro-inflammatory enzymes, and elastin/collagen breakdown, providing skin soothing and anti-aging support. Discover the chemistry, toxicology and clinical support by visiting Boswellin CG. Other anti-inflammatory ingredients such as policosanol, coleus oil and neem oil should also be considered in this category.
A proprietary preparation of freeze-dried green coconut water solids, known as Cococin™, provides nutrients and growth factors to support hydration and healthy growth of skin, hair and nails. A dedicated white paper on this ingredient explores the safety and efficacy of Cococin™ in healthy cell growth and prolferation.
A proprietary extract from Coleus forskohlii, brand name ForsLean®, whereby the roots that are eaten as a condiment in India helps to support the bulk and integrity of connective tissues through building lean mass (US Patent 5,804,596), thereby conditioning the skin and targeting unsightly fat deposits.
A triterpenes rich extract from Centella asiatica leaves helps to support healthy circulation, cell growth and tissue integrity, with benefits in anti-aging formulations.
An escin-rich horse chestnut extract, Venocin®, to support healthy circulation and cell integrity, with benefits in anti-aging formulations.
Policosanol from sugarcane wax, with sebum control support, activity against the acne proliferating microorganism Propionibacterium acnes, and offering skin hydration support (US patent 7,217,546). The natural extractive is a potential substitute for the animal-derived lanolin. Check out some of the functional cosmetic blends this ingredient can be found in.
A proprietary extract from black pepper fruits, Tetrahydropiperine, branded as Cosmoperine® (US Patent 6,849,645) helps to improve the uptake of co-formulated topical actives.
Standardization
Herbal raw materials available commercially as powders and extracts often do not meet global standards of quality, efficacy and safety. To preserve the authenticity and credibility of such products, it is important that the ingredients therein contain adequate amounts of pharmacologically active principles that manifest the desired biological functions.
Cosmeceutical raw materials and formulations need to be validated for efficacy, safety and physicochemical identity using state of the art test procedures. Compositional consistency of botanical extracts in terms of active principles is the key factor in ensuring potency and sustaining consumer confidence.
A conscientious raw materials supplier, like Sabinsa, ensures quality and consistency of raw materials and finished products that contain botanicals, through control of cultivation and collection practices, combined with sophisticated technologies such as tissue culture techniques, non-invasive extraction methods including supercritical carbon dioxide extraction, and enhanced assay tools. The ethical manufacturer also keeps biodiversity issues in mind while nurturing naturals for cosmetic use.
Safety and Efficacy Testing
While animal testing was routinely carried out to determine the safety and efficacy of consumer products and drugs in the past, recent trends seek to veer away from such practices. There is an increasing demand for cruelty-free cosmetics. A global emphasis on humane experimental methodologies resulted in the development of in vitro and alternative testing methods. Alternative cell culture models that have been developed and validated across the world measure safety parameters such as acute, chronic, reproductive, and developmental toxicity; eye and skin irritation; hypersensitivity; mutagenicity/carcinogenicity; phototoxicity; toxicokinetics; and behavioral responses. Similarly, claims substantiation for cosmetics and cosmetic ingredients can also be accomplished in vitro.
Nature provides a vast repertoire of healthful botanicals. The discriminating formulator would need to review and judiciously select the most effective and safe offerings for cosmeceutical applications. That's where Sabinsa is here to help, innovating natural actives for your brands®.
Disclaimer:
The above paid-for content was produced by and posted on behalf of the Sponsor. Content provided is generated solely by the Sponsor or its affiliates, and it is the Sponsor's responsi­bility for the accuracy, completeness and validity of all information included. Global Cosmetic Industry takes steps to ensure that you will not confuse sponsored content with content produced by Global Cosmetic Industry and governed by its editorial policy.