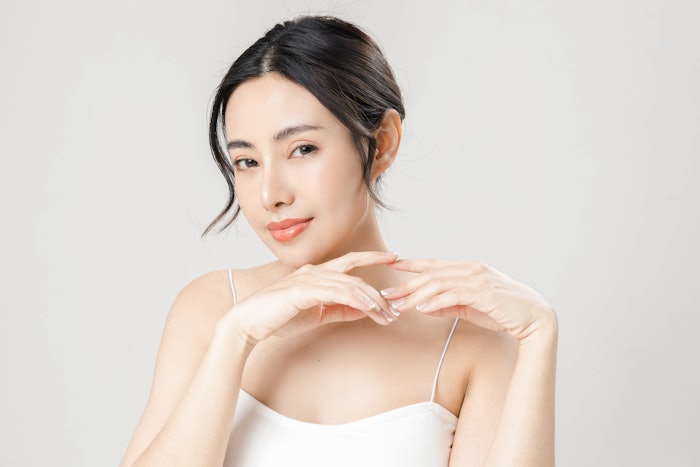 The cutting-edge technology of exosomes is proving to be a new solution in skin care and cosmetic treatments. Exosomes are small spheres that are a by-product of a stem cell and naturally exist in our blood and other body tissues. These spheres are responsible for cell to cell communication and direct how cells behave and thereby are the active ingredient in cell regeneration. Exosomes offer the same benefits as multiple anti-aging ingredients. They can increase collagen synthesis, calm inflammation and neutralize free radicals, which can damage cells, cause illness and aging. No wonder celebrities such as Kourtney Kardashian, Sarah Hyland and Sofia Vergara are huge fans of products that contain exosomes.
Melanie Coirier, chief project leader at Silab, explains the science behind exosomes: "Exosomes are small intracytoplasmic vesicles, which are biological transporters of messages in the form of lipids, proteins and RNA. They are secreted and then taken up by neighboring cells to control biological functions." 
The new advancements in exosome research can open the door to a beauty evolution because these materials have regenerative abilities that are greater than other methods currently available in the market. 
Coirier says, "They target injured or aging cells in order to repair them. This means that they can have greater benefits in applications such as hair restoration, skin rejuvenation or tissue repair."
Stem cells are used more commonly currently in skin care products, as well as in professional aesthetic treatments.  
Exosomes need specific storage conditions which makes it harder for them to be utilized in shelf-stable skin care. That said, there are currently a few companies that make exosomes and many more are working on it. 
Silab develops, manufactures and markets efficacy-proven biological active ingredients of natural origin, compliant with current worldwide regulations. The company has been studying exosomes for many years, with a partnership established with the team of Daniel Aberdam, Ph.D., Inserm, U976 in 2014. 
Coirier explains how this research led to the development of two active ingredients with depigmenting and hair growth applications: "Number one there is Whitonyl, obtained from the red alga Palmaria palmata. It efficiently controls the photoinduced pigmentation—the skin is uniform; the complexion is luminous; and the pigment spots are attenuated. Number two is Hairgenyl, rich in peptides from the yeast Pichia minuta, isolated from the flowers of the azalea. It targets both the biological pathways of alopecia within the dermal papilla as well as on the exosomal communication to stimulate the hair growth, making the hair thicker, more resistant and the scalp more densely covered." 
AnteAGE is a skin care company that provides powerful regenerative anti-aging products through sound evidence-based technology that uses exosomes in a variety of ways. 
Barbara Williamson, vice president commercial of AnteAGE, says, "We are leveraging exosomes to accelerate healing and repair following aesthetic treatments like microneedling, radiofrequency, and more ablative procedures." 
The exosomes will be utilized to deliver a powerful cocktail of growth factors and cytokines to manage inflammation and optimize treatment outcomes.
AnteAGE has been a pioneer in this aesthetic field for the past 10 years and already knows the power of growth factors derived from the mesenchymal bone marrow stem cells. 
Robert Knight a Ph.D. in stem cell and extracellular vesicle biology, says, "Exosomes carry exponentially more of these growth factors, as well as other exciting things like MRNA and MiRNA. With this technology we can increase the efficiency with which growth factors and cytokines are delivered to the cells, resulting in faster, natural anti-aging benefits."
Williamson shares some of their best applications of exosomes, "Currently, we are leveraging exosomes for an anti-aging treatment solution for the skin, but are also in the final stages of creating an exosome product specifically promoting hair growth by targeting the WNT1 pathway." 
Williamson, Knight and Coirier are all excited about this technology. 
Coirer says, "Exosomes represent a novel messaging system allowing adaptation of cells to their environment."
They are powerful cellular messengers that open the way to innovative skin care solutions with a variety of potential applications. 
As Knight puts it, "Exosomes are the next step in regenerative aesthetics." 
Exosomes give providers the opportunity to offer targeted, powerful regenerative treatments with unmatched results.   
This also plays a role on AnteAGE's packaging, as Williamson states, "The new AnteAGE MD exosome treatment solution is the first in an entirely new line of solutions- AnteAGE MDX. This AnteAGE MDX branding will be carried across all AnteAGE products that contain viable exosomes." 
In fact, exosomes can potentially replace PRP (platelet-rich plasma), due to their superiority when it comes to results. 
"PRP has been in the market for a while and studies have shown promising results," says Coirier. 
It will take some time before PRP is replaced by exosomes for aesthetic purposes, especially since the use of PRP is so diverse and can be used for a variety of treatments. 
Although there is still more work to be done and more time needed to thoroughly research the effect of exosomes, what has been discovered so far is promising. Exosomes can very well be the game changer in the advanced field of skin care and cosmetics.