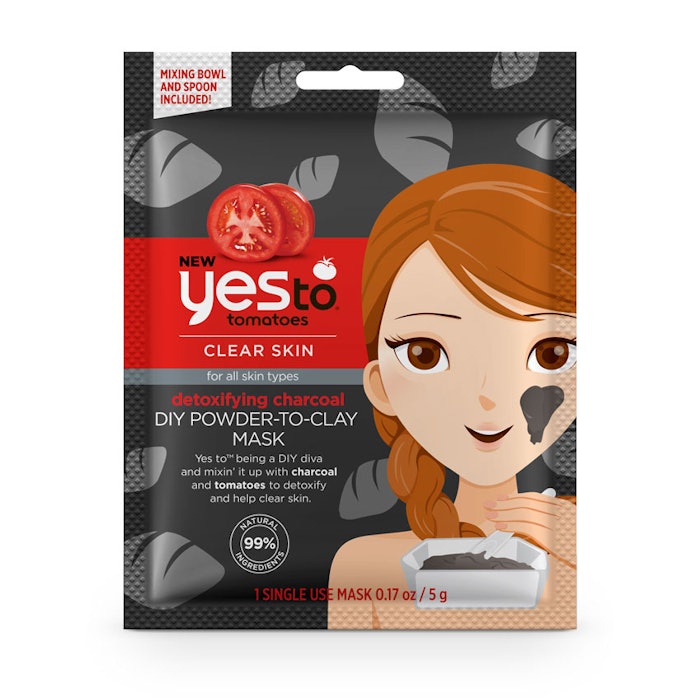 Yes To, a natural skin care brand, has introduced its latest range of masks, cleansing waters and wipes for summer 2017. The new additions include:
DIY Powder-to-Clay masks: Taking aim at the ever-popular do-it-yourself trend, Yes To DIY masks come with a powder, mixing bowl and spoon to create your own formula. These powders can be mixed with water, or other customizable ingredients with a few examples listed on the package. These masks are available in charcoal for removing impurities, coconut for hydration, cucumber to soothe sensitive skin, and tomatoes to clear skin and prevent new pimples.
Single Use Sleep masks: Add these masks to your nightly skin-routine and let it absorb into your skin while you sleep. Fast-drying, the masks penetrates into the skin during sleep without spreading into hair or on pillows. Available in coconut, cucumbers, tomatoes, and grapefruit to even out skin tone and enhance radiance.
New Single Use Mud masks: Expanding the current collection of mud masks, Yes To adds calming cucumber, hydrating coconut, grapefruit, and a cotton-based mask that used cotton extract and cottonseed oil to prevent irritation and nourish delicate skin.
Yes To Tomatoes Charcoal Detoxifying and Tomatoes Acne Clearing Micellar Cleansing Waters: Remove makeup, cleanse, hydrate, detoxify and help clear skin all without rinsing with these two new micellar waters. Tomatoes Acne clearing uses salicylic acid and tomato extract to clear breakouts and prevent new ones. Detoxifying Charcoal uses the natural detoxifier, charcoal, in addition to the tomato extract to remove all impurities.
 Detoxifying Charcoal Facial Wipes: Formulated with charcoal, tomatoes, and salicylic acid, these wipes remove makeup, help clear skin, and detoxify and deeply cleanse with a few swipes across the face. The wipes come in two sizes: a package of 30 wipes, and a travel package of 10 wipes.
These products and others from Yes To are available at Target, Walmart, Ulta and other retail locations.