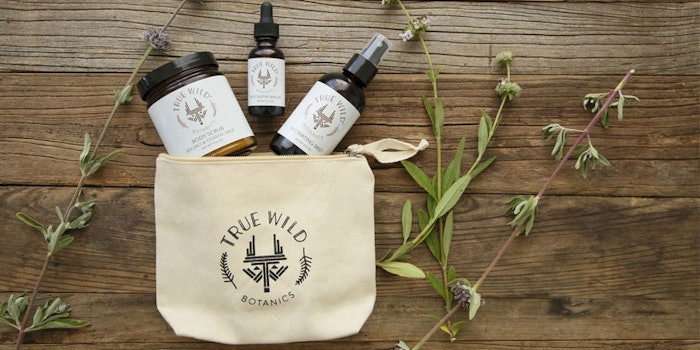 True Wild Botanics was founded by gardener and landscape architect, Nisreen Azar and Scott Ward. Based on the healing properties of plants, the product line integrates botanic healing with beauty and function.
The collection includes:
Sea Salt & Coastal Sage Body Scrub: Formulated with California native sages and Dead Sea salt to replenish, exfoliate and rejuvenate the skin.
Hydrating Mist: A blend of orange blossom, rose, frankincense and vetiver to help soothe, tone and hydrate the skin.
Restorative Skin Oil: jojoba and sweet almond oil combined with vetiver, frankincense and myrrh oils to restore, protect and moisturize the skin.
Pure Beeswax Candle: Made from pure beeswax and organic coconut oil, the candle releases negative ions as it burns to help clean and balance the surrounding air without carcinogens.
Wildcrafted Dream Pouch: The sage-filled pouches are ideal for placement under pillows, in drawers or luggage, and contain a blend of Cleveland, black, purple and white sages.
All True Wild Botanics products are certified organic, fair trade, non-GMO and contain no synthetic fragrances and parabens.