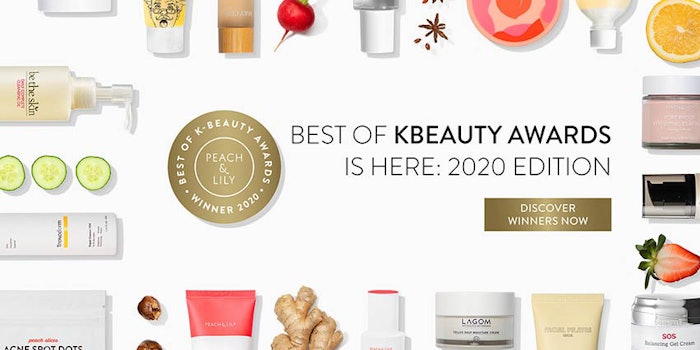 K-Beauty skin care segment Peach & Lily has announced its third annual Best of K-Beauty Awards, to provide a resource for people with specific skin care concerns to find the best products on the market.
Every year, products compete to receive the coveted beauty award and undergo rigorous analysis.
The 17 winning products were chosen through an extensive selection process, based on a combination of consumer review scores and surveys, as well as the overall approval of Peach & Lily founder Alicia Yoon, who is also a licensed celebrity esthetician, to help people determine what they should be looking for in an effective skincare product.
2020 Winners: 
Be The Skin, Daily Complete Cleansing Oil $35
Eco Your Skin, Facial Pilates Mask $30
Peach & Lily, Matcha Pudding Antioxidant Cream $40
Troxederm, Repair Essence Mist $32
May Coop, Raw Sauce $25
Peach & Lily, Super Reboot Resurfacing Mask $43
Lagom, Cellus Deep Moisture Cream $36
Peach & Lily, Pore Proof Perfecting Clay Mask $43
Peach Slices, Acne Spot Dots $4.49
The Pure Lotus, Jeju Lotus Leaf Brightening Serum $58
Peach Slices, Peach Pudding Makeup Cleanser $9.99
Aromatica, Tea Tree Balancing Toner $23
Peach & Lily, Power Calm Hydrating Gel Cleanser $28
Village 11 Factory, Daily Mild Sun Cream $21
Peach & Lily, Wild Dew Treatment Essence $39
Shangpree, SOS Balancing Gel Cream $55