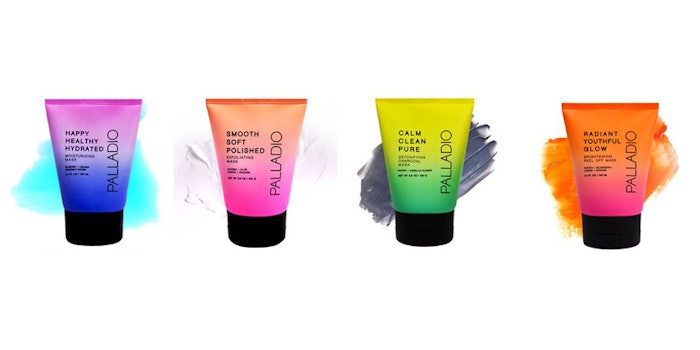 Palladio Beauty, a brand specializing in color cosmetics infused with vitamins and botanicals, has announced its expansion into the skin care market with the launch of four new face masks. 
The masks, retailing for $10, include:
Calm Clean Pure Detoxifying Charcoal Mask: Infused with papaya and camellia flower, this mask is meant to clean pores while also detoxifying and illuminating the skin.
Radiant Youthful Glow Brightening Peel Off Mask: This peel off mask contains papaya, blueberry, citrus and maple sugar and intends to reveal bright, luminous and radiant skin.
Happy Healthy Hydrated Moisturizing Mask: This oil-free mask utilizes ginger, coconut water and bilberry to hydrate the skin and replenish skin tone and texture. 
Smooth Soft Polished Exfoliating Mask: This mask, containing aloe, lemon, orange and jojoba oils, was created to smooth, soften and exfoliate the skin.