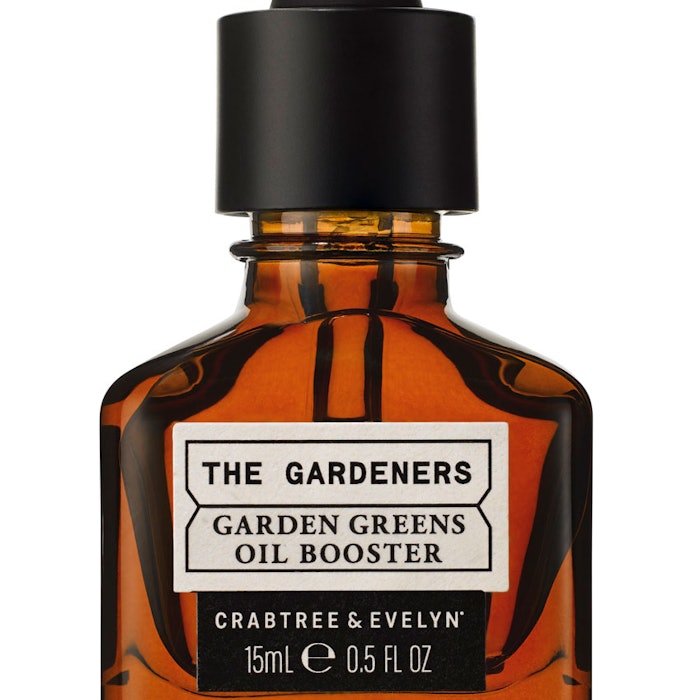 Crabtree & Evelyn's recent rebrand features the launch of three new collections, including: Evelyn Rose, Crabtree and The Gardeners.
Previously: Personalized Skin Care by Pure Culture
Evelyn Rose
Petal Power Lip Scrub: Made with rosehip oil and sugars, it leaves skin soft, soothed and renewed. Murumuru butter helps smooth and moisturize your skin.
Key ingredients: Rosehip oil, murumuru seed butter, sugar
Crabtree
Brighten + Hydrate Exfoliating Tonic: Made with apple fruit water to hydrate and nourish skin and AHA & BHA to loosen dead skin cells. 
 Key ingredients: Apple fruit water, bergamot fruit oil, lemongrass oil
The Gardeners
Ground Exfoliation Powder: A treatment to add to your body wash to exfoliate and leave the skin soft and clean. Ingredients are rich in omega fatty acids and antioxidants. 
Key ingredients: Coffee bean seed powder, raspberry seeds, milk thistle
Mixed Berry Oil Booster: A superfruits booster to add to your daily moisturizer for an extra vitamin boost and layer of protection. This serum adds in fighting free radicals, increasing luminosity and radiance, while making skin nourished.
Key ingredients: Acai, goji, kakadu
Cultivated Cleansing Oil: Gently removes makeup and impurities, leaving the skin soft, nourished and clean
Key ingredients: Moringa oil, chia oil, neem seed oils
Global Cosmetic Industry reached out to Ashley Souza, chief brand officer at Crabtree & Evelyn about the rebrand and new launches.
What are the main drivers behind the brand refresh?
Souza: Despite the legacy of the Crabtree & Evelyn name, the business had been far from profitable for many, many years. Lack of innovation or expansion to different customer demographics, led to a discount focused, gifting brand that was only shopped once or twice a year at massive price reductions.
We knew we had to change the entire business model if we wanted to revive the brand. This involved retail brick and mortar closures and a move to direct to consumer commerce, as well as a complete product overhaul to include more up to date trends, ingredients and stories, and a full update of the look and feel to attract a younger consumer.
The goal has always been to turn C&E back into a profitable business, while keeping Cyrus Harvey, our founder's, legacy and ethos alive and thriving. We wanted to honor his passion for exploration and storytelling by putting it at the heart of the rebrand. Keeping the company namesake alive in the new product lines (Evelyn Rose, Crabtree + The Gardener's) but introducing new, exploration inspired collections which launch us back into a lifestyle brand, which Crabtree & Evelyn was originally.
What is the strategy behind the new collections, including the sleep and superfoods launches?
Souza: Evelyn Rose is a reinvention of a historical collection launched by our founder and David Austin, a rosarian that created a brand new species of rose specifically for us. Unfortunately, the rose itself is extremely difficult to cultivate, so we couldn't include that specific raw material in our formulas. This gave us an opportunity to modernize the fragrance and approach to development. We opted for a woody rose, something complex and less traditional than your typical, powdery floral. It was also a perfect entry into skincare, as rose is not only the #1 fragrance globally, but the core hydration benefit of rose ingredients appeal to almost anyone.
We also kept Cy's tradition of using an illustrator on the packaging alive, but with a more youthful approach. They are delicate but edgy – paying homage to the duality of strong, independent women today.
Crabtree is a collection inspired by gender neutrality and shareability. This fragrance is my personal favourite. It's crisp but not too fruity, and the vetiver base notes are just earthy enough. Everyone can use these products – which is the best part. The natural AHA's are gentle enough for sensitive skin and make for a great everyday use range.
The Gardener's is a more artisanal, story led collection. Cy launched our iconic Gardener's range for just that, those who Garden. We wanted to make this well-known franchise into something that the millennial consumer could relate to – curated, customizeable collections packed with powerful ingredients that told a story and inspired by the gardens of the world we've explored.
Each story is benefit focused, whether it be ingestible or topical, the collections feed the mind, body and skin.
Each and every product we have launched is a brand new formula, with new ingredients, new packaging, new naming and new branding.