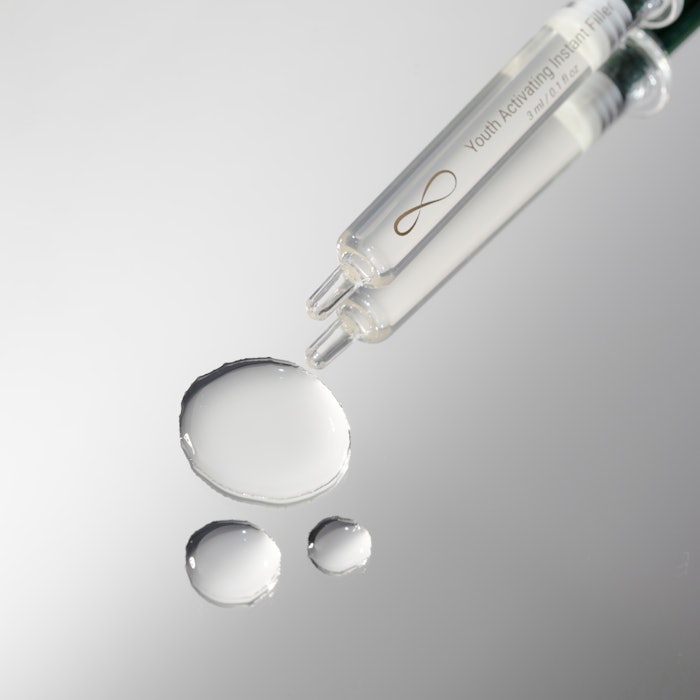 Invity's latest product, the Youth Activating Instant Filler, is a needle-free filler-alternative designed to provide filler-like effects without the use of a needle. The cosmeceutical grade serum is formulated with nicotinamide adenine dinucleotide, sodium acetyl hyaluronate, silanetriol, rhamnose, rhizobia gum and acacia gum to boost hydration levels and increase the rate of collagen production in the skin, reducing fine lines and lifting skin for a more youthful appearance.
Related: Invity Debuts with NAD-infused Face Mask, Dietary Supplements
Invity Youth Activating Instant Filler is safe for all skin types and tones, vegan, clean and cruelty-free. It uses the brand's hyaluronic acid technology that is said to penetrate deeper than the standard ingredient.
Consumers should dispense one-third of the syringe on clean and dry hands and gently spread the product evenly across the face, concentrating on the forehead, under eyes and marionette lines. It is suggested to avoid facial movements until it is fully absorbed by the skin and to apply it before any sunscreen or makeup.
The serum is designed to provide flash filler effects, lifting and tightening skin, in one hour to reduce wrinkle depth and reduce deeper wrinkles and fine lines in six hours. Other intended benefits include moisture retention, improved elasticity, cellular repair and a smoother complexion.
Invity Youth Activating Instant Filler includes five individually packed fillers (3 ml/0.1 fl oz each) for $65. More information on the product is available at myinvity.com.