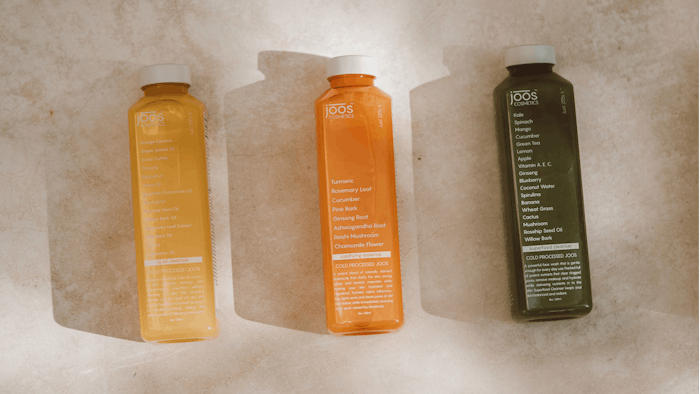 Joos Cosmetics is a new skin care brand with products inspired by fresh-pressed juices and infused with botanicals, vitamins, antioxidants and phytonutrients. The debut launch includes a cleanser, facial oil and serum.
Related: Soho Skin Debuts with Full Range
Each Joos product includes a "Skintrition" label on the back of the bottle that details the daily benefits, ingredients and usages. The packaging uses aluminum caps to increase its recyclability and includes a plug to help preserve product freshness. Joos' formulas are vegan and cruelty-free and do not contain any synthetic fragrances, dyes, parabens, GMO or sulfates.
Clarifying Essence blends natural extracts and turmeric to unclog pores, calm inflammation and hydrate skin. The serum is designed to reduce dark spots and acne. It costs $48.
Superfood Cleanser is a gentle cleanser infused with natural extracts. It is designed to cleanse, clear clogged pores, remove makeup and hydrate to keep skin balanced and radiant. It costs $68.
OJ Oil Cleanser is a nourishing daily oil-cleanser that dissolves makeup and environmental aggressors. It is designed to be used on dry skin prior to the Superfood Cleanser to prep skin and assist in the effectiveness of the rest of the routine. It costs $58.
Joos Cosmetics co-founder, Shayan Sadrolashrafi, said, "I wanted to create the healthiest skincare products available and present them in a way that consumers would just get it. Andrew and I found it easier to read the back of a juice bottle from the grocery store to find out the facts than trying to look through the confusing ingredients on the back of skincare products, so we created a 'skintrition' panel to make it simple for customers and to be as transparent as possible."