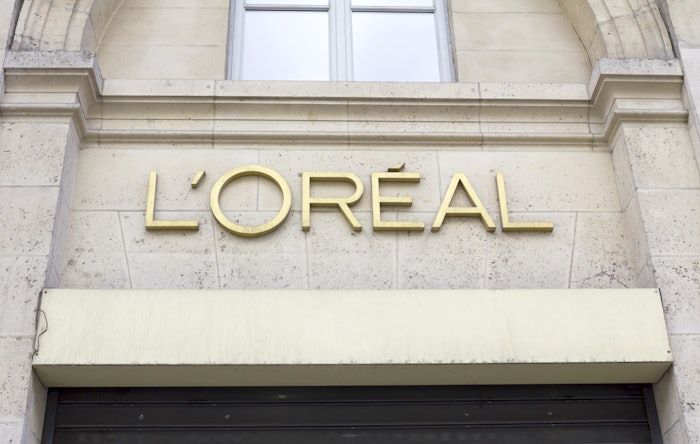 L'Oréal has announced its first quarter 2022 results that showed group sales were €9,060.5 million, compared to €7,614.5 million in the previous year.
Professional Products
First quarter sales for the professional products category was €1,041.3 million,  compared to €848.3 million in the previous year.
Hair care was still the main growth driver, largely thanks to Serie Expert by L'Oréal Professionnel and Prescriptions by Redken. 
Kérastase continued its upward trend with the successful launch of Chroma Absolu one of the main highlights.
The successful performance in hair color was largely due to the sustained growth of Shades EQ by Redken and Inoa and Dialight by L'Oréal Professionnel.
Consumer Products
First quarter sales for the consumer products category was €3,302.9 million, compared to €2,973.3 million in the previous year.
The acceleration of the division was driven by the strong upswing in brick-and-mortar sales, while e-commerce continued to grow.
L'Oréal Paris enjoyed strong momentum in hair care, with the success of Hyaluron Plump, and in makeup, with True Match serum. 
The brand also gained more ground in emerging markets and especially in South Asia, with the launch of Glycolic Bright. Garnier showed a significant acceleration in skin care, buoyed by the global success of Fast Bright and its Vitamin C Brightening Serum.
Both Maybelline New York and NYX Professional Makeup experienced successful launches for Colossal Curl Bounce mascara and Bare With Me Concealer Serum.
L'Oréal Luxe
First quarter sales for the L'Oréal luxe category was €3,463.7 million, compared to €2,769.7 million in the previous year.
The couture brands Yves Saint Laurent, Giorgio Armani, Prada and Valentino grew significantly faster than their markets. 
There was rapid growth in collection fragrances such as Maison Margiela Replica and Armani Privé. 
In skin care, the division's performance was driven by the ultra-premium segment, including Lancôme Absolue and Helena Rubinstein, with newly acquired brands Takami and Youth to the People showing real promise. 
Shu Uemura and Urban Decay recorded strong growth in makeup.
Active Cosmetics
First quarter sales for the active cosmetics category was €1,252.7 million, compared to €1,023.3 million in the previous year.
Online sales growth continued while brick-and-mortar outlets saw a sharp upswing, driven by professional channels.
La Roche-Posay's strong performance was fueled by the ongoing success of Cicaplast and Effaclar and boosted by the launch of its UVmune sun protection.
CeraVe maintained successful momentum in all zones. Growth at Vichy was fueled by Dercos and a solid performance in sunscreens.
Nicolas Hieronimus, CEO of L'Oréal, said: 
Against the backdrop of the invasion of Ukraine and strengthened sanitary measures in China, L'Oréal had a strong first quarter, with strong growth in sales, at +13.5% like-for-like and +19.0% reported.
In the first three months of the year, the growth trend continued in the global beauty market, with consumer purchasing behavior unaffected by inflation. L'Oréal pursued its premiumization and innovation strategy and continued to outpace the beauty market across all zones and divisions, recording strong growth by volume and value. L'Oréal luxe, professional products and active cosmetics all achieved double-digit growth, and our consumer products division again outperformed the market despite supply-chain challenges. We made the most of our omnichannel strategy, with a clear revival in offline sales while e-commerce continued to grow, representing 25.8% of sales.
Our growth was balanced across all geographic ones, with continued outstanding momentum in North America, double-digit growth in mainland China, and an acceleration in emerging markets as well as in Europe, where growth was muted by a number of lockdowns in early 2021.
In these challenging times following the invasion of Ukraine, I would like to express our support for all our Ukrainian employees, whose protection remains our absolute priority.
Thanks to the unrelenting efforts of our teams across the world, we will pursue our strategy of harnessing cutting-edge innovation and investment to drive the growth of our brands and enhance their desirability going forward.
While mindful of volatility and uncertainty, we remain optimistic about the outlook for the beauty market and confident in our ability to outperform the market in 2022 and achieve another year of growth in sales and profits.