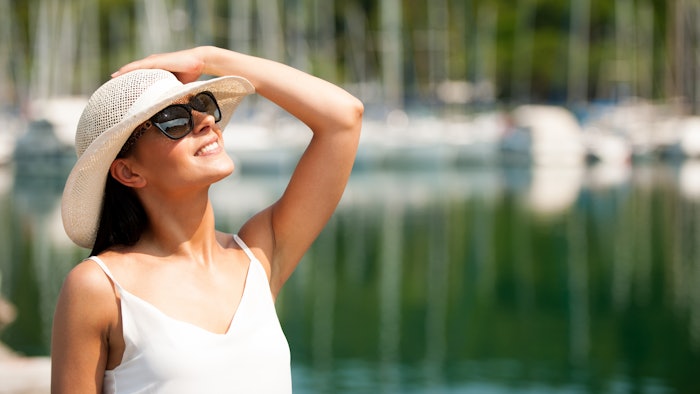 Royal DSM is hosting a skin cancer prevention and education awareness event—Safer Under The Sun—on May 19, 2022, in support of The Skin Cancer Foundation's Destination Healthy Skin mobile skin cancer education and screening program. The event will feature a panel discussion on skin cancer prevention and the benefits of sunscreen, free facial skin cancer screenings, informational brochures and product giveaways.
Related: DSM Sponsors Destination Healthy Skin Program
The Destination Healthy Skin RV travels the country from May to September providing free full-body skin cancer screenings. The Foundation has provided more than 25,000 free skin cancer screenings, working with volunteer dermatologists to identify more than 10,000 potential skin cancers and precancers, including 450 suspected melanomas.
Speakers at the event include representatives from DSM, The Skin Cancer Foundation and Beiersdorf. Members of the Congressional Skin Cancer Caucus and Emily Smith, health promotion manager, Laborers' Health & Safety Fund of North America, have also been invited to speak. Safer Under The Sun will take place in the Rayburn House Office Building, part of the U.S. Capitol Complex in Washington, D.C.
Dan Latore, executive director of The Skin Cancer Foundation, said, "Destination Healthy Skin gives us the opportunity to tangibly connect with thousands of people each year as our RV makes its way around the country. About 60% of our program participants have never had a prior skin cancer screening. Partners like DSM help make this meaningful public service possible, and we're grateful to have their support."
Eduardo Ruvolo, clinical and scientific affairs director for Suncare and Nivea, said, "Beiersdorf has a long history of pioneering advancements in the skincare market. As the maker of Eucerin Sun and Coppertone, Beiersdorf is committed to providing effective sun protection for the North American market. Eucerin Sun is a new innovation we have launched to bring a unique sun care offering to the market and Coppertone has been a recognized name in the sun care industry for more than 75 years. We are proud to participate in such an important initiative like Destination Healthy Skin in partnership with DSM and The Skin Cancer Foundation. At Beiersdorf, we care beyond skin."