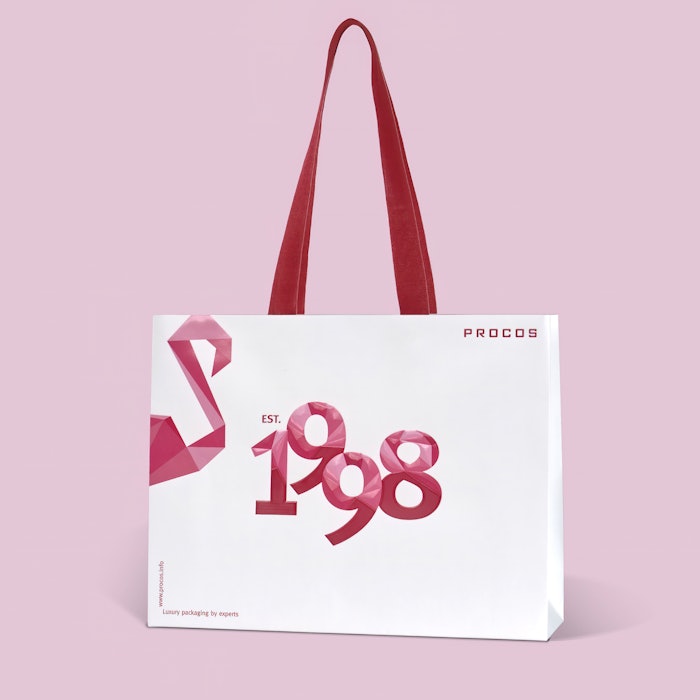 Secondary packaging manufacturer Procos (short for "Pro-Cosmetics") is celebrating 25 years of business. The company was founded in 1998 in Munich by Leander Kritikos, focusing on the fashion, perfume, cosmetics, decoration, jewelry, wine and spirits markets.
The company expanded from the production of paper bags to cartons, boxes, cases and woven products, as well as e-commerce-optimized packaging.
Procos has since expanded on several continents and developed an expertise in eco-responsible packaging for high-end brands. It now boasts regionalized production facilities in Europe, Asia and the United States. It also operates warehouses and offices in Germany, London, Paris, New York, Qingdao and Shanghai.
Today, Procos employs 40 and generated 2022 revenue of 56 million euros.
To mark its anniversary, Procos has developed "1998," a white kraft paper bag with 3D embossing.
"At Procos, we strive to be where our customers need us to be," says Kritikos. "We create and innovate to present packaging solutions that meet the new eco-responsible expectations of the market, as well as their quality requirements and their need to stand out. We have offices and production plants in several continents and we have also improved our e-shop platform for optimized logistic solutions. We accompany every production, from the briefing, where we listen and make suggestions, to the delivery of the products."
The executive adds, "From the beginning, we have been committed to building lasting professional relationships. We work with long-standing partner manufacturers in Asia, Europe and America who meet our criteria in terms of CSR and high quality. We work with major luxury houses whose history and challenges we understand and supply season after season. We cultivate attentive and loyal relationships with them, based on trust, understanding of needs and proactivity in a constantly changing world."
Stéphanie Havard, director of operations at Procos, notes, "Our signature is 'Luxury Packaging by Experts': it's an attitude that the Procos teams embody on a daily basis. When we receive a brief from a client, we follow two paths: a response that meets the client's requirements in every respect and, in addition, our eco-designed approach, with the same high level of quality and aesthetics, but developed in an environmentally responsible manner. Our experts are able to respond to extremely precise briefs, while contributing their vision and positioning themselves as allies of the brands."