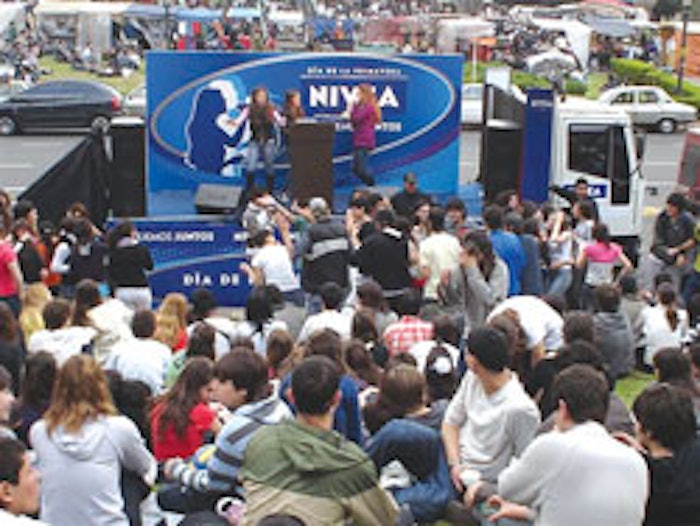 The exportation of Brazilian cosmetics products increased by 21% in the first eight months of 2008, according to the Brazilian Association of Toiletries, Perfumes and Cosmetics Industries (ABIHPEC). The value of exports from the country rose from $360 million to $421 million during this period.
João Carlos Basilio da Silva, president, ABIHPEC, said that the growth is due to the strengthening economies of Brazil's neighboring countries. However, the Middle East is also an increasingly strong market according to da Silva. Cosmetics and toiletries sales in Brazil rose by 14% in 2007, and predictions for growth for the next five years are in the double figures.
World Beauty Fair Held in Argentina
The 15th edition of Cosmesur Beauty World Buenos Aires 2008 was held September 13–15 at La Rural Exhibition Center. There were 156 exhibitors, representing a number of beauty sectors. Avon, Alfaparf Milano, Hannah Collins, Coif, Idraet, Leyda, Nell Ross, Toatex, Wahl Argentina and Xscissors were among the firms that exhibited on the 20,000-square-meter show floor.
Organizers told GCI magazine that the 2008 event hosted 42,315 visitors, mostly from abroad, with heavy representation from Brazil, Colombia, Paraguay, Peru and Venezuela, and included the third Round of International Cosmetics Buyers—organized by the Export.Ar foundation and Indexport Messe Frankfurt—where more than 30 local companies held business meetings with Latin American and international firms.
Avon Opens its Largest Distribution Center in Brazil
Avon announced that it will open a distribution center in the city of Cabreúva, in the state of São Paulo, Brazil, in 2010. The direct seller expects to make an investment of $150 million in this project, with construction beginning in early 2009. The initiative seeks "to meet the increasing demand in this key growth market."
"The center will feature advanced order-picking technology to help improve productivity and order accuracy, along with automated systems that will streamline workflows—resulting in cost efficiencies and improved service to representatives," noted the company.
The 70,000-square-meter facility will employ approximately 1,300 people, and have capacity to ship 70% of Brazil's overall unit volume.
Nivea "Springs" Into Action in Buenos Aires
Beiersdorf Argentina created the "Nivea Music Truck" event—held in the exclusive Buenos Aires neighborhood of Recoleta—to boost brand recognition in Buenos Aires. The high impact promotional event, held September 21, coincided with the beginning of spring and featured the slogan, "Wake up the beauty of the spring."
Nivea's representatives invited groups of friends to get on the stage and dedicate songs to each other, in a completely fresh and fun environment. Fliers were handed out at pubs and bars in the area, inviting everybody to participate.
The company is targeting teenagers, considering Nivea is a widely recognized brand with more mature consumers in the local market.
Hypermarcas Acquires Niasi
Hypermarcas, one of the largest Brazilian consumer goods companies, announced the acquisition of Niasi, a traditional Brazilian cosmetics manufacturer and marketer that holds a leading position in the hair care, nail polish and perfume sectors. Hypermarcas will pay more than $188 million to purchase Niasi. With this move, Hypermarcas enters the hair coloring and nail polish market and strengthens its cosmetics line.
Hypermarcas is currently active in hygiene and cleaning, beauty and personal care, food, and OTC products. Niasi has been one of the largest cosmetics corporations in Brazil, manufacturing and commercializing approximately 150 million units across 70 items—including the brands Risqué (nail care) and Biocolor, a hair coloring product. In 2007, Niasi reported more than $112 million in net revenues.
Natura Promotes Art and the Environment
Brazilian direct seller Natura organized an art exhibition featuring designs made of recyclable waste on September 11 in Argentina's Museum of Latin American Art of Buenos Aires (MALBA). Architecture and design students created masks, ornaments, tables and other objects, under the direction of artists Alejandro Sarmiento and Luján Cambariere. Titled "The Celebration," the event marked the third consecutive year that Natura has invited the community to experiment and reflect on environmental care. In this way, the company helps promote its environmental initiatives. The 2007 theme, which centered around toys created from refuse, have now reached The Museum of Modern Art in New York and museums in Tokyo.
Cristina kroll is a business journalist specializing in the beauty sector and living in Buenos Aires, Argentina. She has written for the main Argentine magazines related to the beauty business, and was a correspondent for French magazine Beauty Business News.