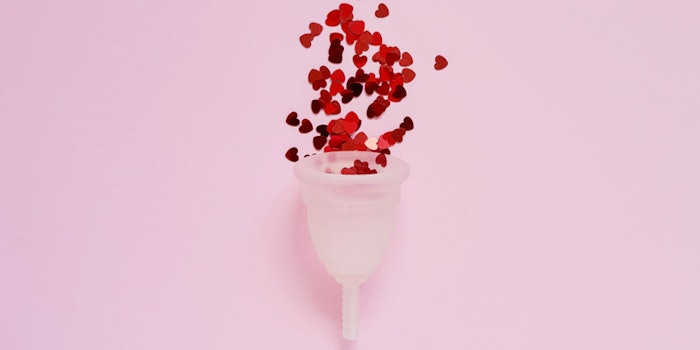 Female hygiene products had long been regarded as a taboo. Then, enter female empowerment. What was once brushed under the carpet or whispered about is now shouted in today's world of social media as the new-age generation marches to shake off the stigma of basic female reproductive biology.
With significant evolution in sanitary napkin advertisements, featuring women's menstrual stories, the industry has seen monumental transformations.
The normalization of feminine hygiene is also attributable to the recent wave of feminism, which has pushed feminine health and hygiene products to the forefront. However, the global feminine hygiene products market continues to face numerous challenges, in terms of unsafe ingredients, disposal, tampon tax and recently the ripple effects of COVID-19.
Related reading: Sexual Wellness Brands Get in the Beauty Game
In 2019, the feminine hygiene products market remained in good shape. Sales of women's intimate care products totaled $25 billion and new innovations, including menstrual cups and period panties, emerged as multimillion-dollar opportunities. Significant efforts to dilute the stigma around menstrual products, especially in the low-income countries of Asia, the Middle East and Africa, have also played an instrumental role in the sales of regular sanitary napkins, tampons and panty liners.
In 2020, the rapid spread of COVID-19 across key economies and major markets brought many normal parts of life at a standstill. One thing did not stop—a woman's menstrual cycle.
Menstrual Products Face the Gendered Effects of COVID-19
As the pressure of COVID-19 grows on health systems and the retail industry, access to menstrual hygiene products has significantly reduced. As with other supplies, it was clear that the initial phase of panic buying was causing a shortage of these products. Moreover, stockpiling practices among affluent consumers left women with lower incomes without their basic essentials. Despite a precipitous rise in demand following lockdown orders, factory closures, supply chain disruptions and logistical delays resulted in severe product shortages.
The growth estimation of feminine hygiene products market revenue will decline by 1-2% in 2020. Considering the "essential" status of the product and higher percentage of women in the health care workforce, governments and health authorities are urging manufacturers to maintain a steady production level. 
Related reading: Sexual Wellness Indie Trends
Additionally, the inclusion of menstrual materials in distribution of food and non-food items to girls and women in home quarantines will help the market to recover by the third quarter of 2020. It is imperative to note that the pandemic is triggering a surge in the demand for reusable alternatives, thereby compelling manufacturers to revisit their growth strategies.
Donations and Digital Awareness Campaigns to Bridge Product Accessibility Gap
The secondary wave of COVID-19, triggered by the effect of fear on the population or due to measures taken to contain the virus, is resulting in far-reaching negative impacts on the lives of those who menstruate.
In sequence, United Nations organizations such as UNICEF are providing guidance on mitigating the impacts of COVID-19 on menstrual health and hygiene. Additionally, a growing number of non government organizations (NGOs) and women's clinics are pitching in to bridge the gap. Non-profit organizations such as I Support the Girls donated 900,000 menstrual products in March 2020, including 100,000 supplies to Los Angeles' emergency shelters in partnership with Lola, a menstrual product company.
Related reading: Sexual Wellness: Beauty's Next Frontier
As the COVID-19 crisis deepens, women bear the brunt of widespread job cuts. This suggests that a large number of working women as well as teenage girls will struggle to afford menstrual hygiene products, while women in low-income countries give in to unsafe and unsanitary options. Women's clinics and relatively new organizations are thus joining the race to provide free feminine hygiene kits, including tampons in different sizes, disposable wipes, a pain patch and pain killers for cramps. 
Furthermore, with fears over worsening cases of "period poverty" amid closure of schools and educational institutions, doctors are turning to technologies and social media to raise awareness among teen girls.
Availability of Free Feminine Hygiene Products is the Next Big Thing
Over the years, tampon taxes have triggered various debates, as they are not deemed necessities worthy of an exemption. Low-income households worldwide, as a general rule, spend more of their income on tampon consumption than high-income households do, prompting governments to remove feminine hygiene products from their sales taxes bases.
Access to period products has been a hot topic in developed countries, such as the United States, in recent years. In February 2020, following an exemption of tampon tax, the Rhode Island General Assembly introduced a bill to provide public school students with free feminine hygiene products. The trend has also been evident in European countries. Moreover, Scotland became the first nation in the world to make sanitary products freely available to all women. The Period Products (Free Provision) Scotland Bill would make sanitary pads and tampons available at designated public places such as youth clubs and community centers.
Entering the Era of Organic and Reusable Alternatives
While the conversation around menstruation has seen some progress and more states move to end the tampon tax, there is still a lot of headway to be made.
Today, greater concerns for the impact on the environment and waste reduction are inspiring many women to commit to using reusable products to manage periods and menstrual health. Recent innovations in feminine hygiene products that have been making headlines—menstrual cups, organic sanitary pads and reusable period panties—are increasingly creating environment-friendly choices for women. While a few larger brands are beginning to introduce reusable variants in their female hygiene line, the number of small businesses popping up to disrupt the industry is increasing with each passing year.
Disruptors include:
Lola offers organic pads and tampons. 

Cora provides customizable subscriptions to organic female hygiene products. 

Diva Cup makes a reusable silicone cup. 

Thinx offers a line of innovative period panties that can be washed and re-worn.
Heritage players such as Procter & Gamble's Always and Tampax are emerging as the latest go-to market for organic tampons and pads. In May 2019, the company rolled out Tampax Pure, a new organic tampon option, and Always Pure menstrual pads—both free of chlorine bleaching, fragrances and dyes. Moreover, Always' widely acclaimed #LikeAGirl continues to reach out to help tackle societal barriers to girl's confidence.
About the authors:
Sneha Varghese, senior research consultant at Future Market Insights
With more than five years of experience in market research and consulting industry, Sneha Varghese  has worked on more than 200 research assignments pertaining to consumer retail goods. Her work is primarily centered on facilitating strategic decisions, planning and managing cross-functional business operations, technology projects, and drive successful implementations. She has helped to create insightful, relevant analysis of retail and consumer products market reports and studies that includes consumer market, retail and manufacturer research perspectives. Varghese has managed a broad array of projects along with bulletins in retail and food magazines and journals. Insights presented in this article are based on the findings of an ongoing study of Future Market Insights that tracks COVID-19 impact on feminine hygiene products.
Alice Ajit Mutum, market research writer at Future Market Insights  
Alice is an experienced market research writer and has written extensively on the retail and consumer products domain. At Future Market Insights, she works closely with the retail and consumer products research team to serve the needs of clients from across the globe. Insights presented in this article are based on the findings of an ongoing study of Future Market Insights that tracks COVID-19 impact on feminine hygiene products.