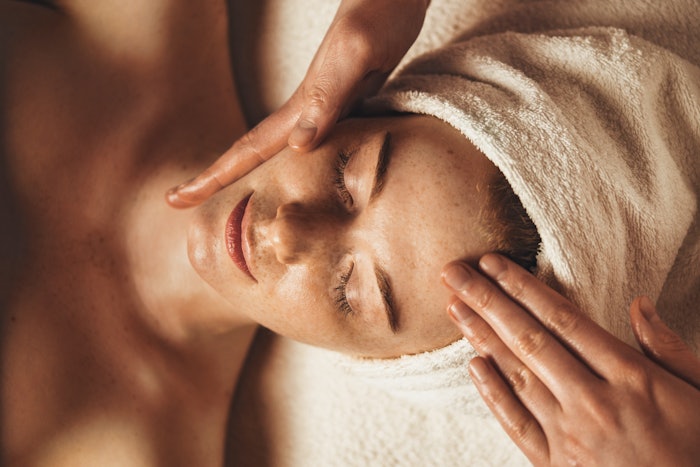 The 2023 ISPA Conference took place at Mandalay Bay in Las Vegas, NV, May 9-11, 2023 with a plethora of wellness brands taking the spa industry to a new level. Equipment and products are proving to be bimodal, a signal that an industry has become mature: as a result, we're simultaneously seeing both high tech touchless and high-touch concepts, luxury and democratized offerings, and brilliant spa design and products for at-home usage. The president of the International Spa SPA Association, Lynne McNees, explains how spa technology continues to be the trend on everyone's mind, "Touchless treatments and wearable equipment show that technology is reshaping the spa experience."
Other trend highlights from the show include sustainability, spirituality, and the mainstreaming of sex and CBD products. 
Spas Go High-tech
At many spas, new tech bridges a gap created by post-COVID talent shortages. And some emerging tools integrate medical technology with the spa, expanding the industry's reach.   
Blake Feeney, VP of business development, Spa at Arch Amenity Group, says that the big trend is technological advancement in equipment innovation and service with the touchless wellness offerings like the Mind Sync Harmonic Wellness Lounger from Living Earth Crafts and other manufacturers.
"They can be deployed in lounge spaces, treatment rooms or, the holy grail, hotel rooms and suites," says Feeney. He adds, "I am bullish on this technology trend only as a complement to the hands-on, therapeutic massage that is delivered by our amazing massage therapy community. There is no substitute for magical hands." 
Touchless Tech Brands Shake Up Spas 
One company that is upping the touchless game is JK Products & Services, featuring wellness equipment and its new product from its line Wellness JK. The company offers a hydrotherapy massage experience. It's a full body massage with waterjets, complete with a sensorial immersion to bring clients total relaxation. There are even different light, sound and aromatherapy programs. Executive director of sales, Charles Lerebours, says they were received very well. 
Spirituality is Getting More Serious, Mainstream Attention at Spas 
Kim Matheson Shedrick, managing director of wellness at Arch Amenity, adds, "When you study the principles of Dan Buettner's Blue Zone—which I had to extensively to help create the first Blue Zone Spa and Wellness Center—it says faith and spirituality can extend a life by 4-14 years. Some of the top spas already are getting more into spirituality and metaphysics, and at this time Miraval has the most developed spirituality program. If spas want to impact longevity, they have to offer more spirituality in their treatments."
To connect on a deeper spiritual level and immerse yourself in a space of calm and serenity, one should experience Eastern Vibration. The company provides sound bowls and specializes in education on the use of therapeutic sound, as well as offer spa services, such as sound therapy, meditation and vibrational sound massage. Their bowls induce theta brainwaves, leading to deep relaxation, while the soothing vibrations gently massage the cells.  
Christine Hays, chief energy officer, Eastern Vibration, says, "Sound and vibration reinstate health and wellbeing by restoring the natural harmony of our body, mind and energy. Sound Therapy is a profound therapy that has been practiced for thousands of years and was introduced to the wellness world by Eastern Vibration in 2006, primarily in spas across Southeast Asia. Back in 2016 we participated in ISPA. Our innovative approach received great appreciation, although only one spa decided to give it a try. However, in recent times, sound wellness has gained significant traction due to the widespread popularity of 'sound baths' in yoga studios, becoming a noticeable trend."
The response Eastern Vibration  received at ISPA was exceptional, signaling that now is the opportune moment to incorporate this unique wellness component. By doing so, they will elevate themselves above the competition by offering a results-driven and unique therapy, while providing a memorable experience for the guests.     
According to Hays, within the spa/wellness world, sound wellness, salt therapy and breathwork have emerged as new modalities.
Hays says, "I strongly believe that each of these holds true healing potential."    
Hot stone massages have also enjoyed a long-standing presence in the industry, but Hays anticipates that Himalayan salt stone treatments and salt experiences will gradually replace the traditional hot stone massages. Additionally, body wraps might require reinvention or replacement to maintain their relevance in the market.    
Non-Invasive Treatments That Get Big Results
The revolutionizing brand, HigherDOSE, has organically grown with the spa channel over the past few years. They have been on a mission to ignite vitality  by reconnecting you to the healing power of nature and supercharging your self-care with the hottest wellness tools. 
Chief growth officer, Lisa Pounds, saw recurring themes including innovation with wellness products including red light and infrared for all parts of your body and an overall theme of prioritizing self-care which doesn't just mean a basic massage or facial anymore. 
Pounds says, "Consumers are savvier and starting to learn about red light and wellness technology or they are trying our saunas at new various locations around the country.  It's necessary for spas to innovate faster due to consumer demand. They need to offer all the state of the art wellness tech and infrared technologies, that can be used as standalone treatments (full spectrum infrared sauna or sauna blanket) or can use products like we offer as enhancements to usual treatments, like adding our PEMF Recovery mat to massage tables or our PEMF GO mat in recovery rooms or IV drip rooms, or our red light mask as enhancement to a facial."   
With the shortage of great massage therapists, more spas want offerings that are self-service like HigherDOSE's full spectrum sauna. It keeps the customer onsite longer with more regular visits and increases incremental revenue to the spa and does not require a massage therapist to operate. Other examples are the Spa at Casa Cipriani New York, which has really elaborate detox body treatments using their sauna blanket, and of course their own location Services (higherdose.com) where they offer a lymphatic massage, get lifted facial and full spectrum sauna sessions. They also sell into 1 Hotels across the country and Six Senses around the world. It's clear that it's time for the spa industries to shift toward prioritizing preventative care. Harnessing innovation and advanced technologies are the future of self-care, skin care, body care, fitness and recovery.   
Artemis Distribution brings today's top beauty devices from around the world to the United States  market with the aim of building a community of successful entrepreneurs who empower their clients to be confident in their own skin. After their success with Cryoskin, they expanded their portfolio to include endospheres and plason. They continue to add new product lines that align with their values: providing non-invasive and effective treatments. Account executive, Kristi Lee, recognizes that consumers are getting smarter about beauty and wellness technology.
Lee says, "In 2023, it's become a top priority for resort and hotel spas to enhance the guest experience by adopting non-invasive result-driven technology in treatment rooms." 
Lee agrees that the spa industry is embracing technology and relying on data.   
Since AI is being incorporated into the spa experience and evolving procedures, the creams and powders that people have been using for skin care for centuries are going out of style. 
Lee adds, "At Artemis we believe that beauty professionals should utilize more technology to provide better results for their clients and in return increase earning potential." 
One's entire skin care routine will look a lot different in the near future.   
Red light therapy was everywhere at ISPA this year as well. Though the non-invasive LED technology has been around for 30 years, the ability to deliver light therapy with smaller handheld devices and masks has fueled its surge in popularity.    
The brand Geneo provides the only facial technology that triggers a natural oxygenation process within your skin, gently creating the ideal conditions to nourish and transform skin from the inside out. It's for every age, every skin type and every season. Its versatility, results and that you no longer have to worry about blotches after treatments make it irresistible. The brand's new noninvasive, Glo2 Facial is a breakthrough treatment that unlocks the body's natural superpowers: Oxfoliate with O2 bubbles, amplified with LUX via its lite ultrasound experience and detox via lymphatic massage. 
Spa Insurance
With the increase in medical and cosmetic technology, it's important for one to have protection before they experience these treatments. CoverWell by InjectSure is the beauty and wellness industries' first ever opt-in pre-treatment insurance. They cover the medical cost of treating complications from minimally invasive cosmetic procedures, medical spa treatments and wellness therapies. This way, businesses can have procedures with peace of mind.    
InjectSure president, Kimberly DeOrsey, notices rapid innovation of cosmetic medical technologies driving the continuous introduction of new procedures, which are unfamiliar to both the consumer and the practitioner. This trend increases the risk of medical complications. 
DeOrsey says, "The stigma attached to med spa treatments is diminishing. This will precipitate an apparent increase in complications. However, much of this will be attributed to increased reporting of these issues."  
CoverWell will help the industry gain a clearer understanding of the actual number and type of complications that occur, which will help in prevention.     
DeOrsey also realizes that customer relationship management (CRM) software for medical and wellness spas is becoming more robust, thanks to an increasing number of helpful software integrations. 
She adds, "Patient Now, the leading medical spa management software, integrated the CoverWell insurance solution right into their product, making the offering of coverage organic and seamless to the patient experience.The growing popularity of results-driven products and services for the skin and body means that more of the spas we spoke with this year plan to add minimally invasive cosmetic and wellness services to their offerings. On the cosmetic side, these include offerings like injectables and laser treatments. On the holistic side, it's acupuncture, cryotherapy, float tanks and IV therapies." 
Most spas aren't prepared to address how complications from these new services could impact their ability to maintain high levels of customer service.     
As stated earlier, there are labor shortages in the spa industry and upward pressure on employee compensation. These two factors push companies to explore automated services, including robotic massage therapy. 
DeOrsey says, "As the human element is reduced, new technology and automation will bring new risks and require different risk mitigation solutions that traditional liability insurance companies may not understand."
Next-generation CBD 
Neil Fishenden, founder and CEO of On The Green CBD, sees a significant, positive shift in the quality of CBD products across the spa and wellness industry as buyers become more informed and educated on the differences between the good, the bad and the ugly. 
"Until recently the market has been flooded with inferior isolate-based CBD products that lack the authenticity of broad spectrum or full spectrum compounds, which when formulated with complementary essential oils and terpenes deliver amazing results," says Fishenden.
It seems the consolidation of the market is inevitable and will be driven by the growing level of awareness by sophisticated buyers across the industry.     
This awareness and ability to evolve their approach to product development is beginning to define the future of the industry. 
Fishenden adds, "The focus on formulating specific cannabinoids with complementary botanical ingredients, essential oils and terpenes is what will provide the ongoing momentum of this exploding industry."
Fishenden says, "Through trial and error and education provided by more authentic brands, the consumer is identifying with the greater therapeutic benefits achieved through the 'entourage effect' delivered through terpenes being coupled with cannabinoids."  
Self-Care is Here to Stay
Things that were once trendy are now here to stay, like products for the brows and eyes. The brand Chella was founded in 2003 and they spent years dedicated to crafting the best in brow and eye makeup essentials. They have clean and vegan products with high-quality ingredients. 
Chris Kolodziejski, CEO and founder, shares the good news about the direction of the spa and self-care category, "The economic forecast across the five leading indicators on the health of the spa industry were all up in 2022. I think the psychology of how customers view the spa experience has changed from one of, 'this is a Luxury when I can afford it,' to 'this is a necessity of self-care' that people feel they need and deserve to take care of themselves and their mental health."    
He points out that in order for spas to be able to maximize their revenue potential, they need to embrace the notion of integrating services and products, "Offering the combination of a service with a complimentary product elevates the experience for the guest in a way that brings more value to the customer." 
This upgrades the customer experience entirely.   
OMM Collection is luxurious, holistic, clean hair and spa-body beauty. Co-founder and CEO, Mellina Soheili, states that both the hair and spa-body categories are going to get smaller, and the survivors are the ones with the products that deliver. 
"Granted, consumers are going to like natural, clean, vegan-friendly items versus all chemical items, nevertheless, the ultimate test is delivery and results in a combined spectrum," Soheili says. "Consumers are so confused."  
Spas Bridge the Gap Between Physical Beauty and Health 
PNOĒ's program offers spas and salons a way to bring hospital-grade diagnostic tools for heart, lung and metabolic disease, with hyper-personalized nutrition and exercise programming tailored to clients' metabolism and health. PNOE means "breath" in Greek. The brand is the reportedly the first integrative health optimization program addressing cardio-metabolic disease through breath analysis. It brings the expertise of a team including a cardiologist, pulmonologist, endocrinologist, nutritionist and coach to facilities. 
PNOĒ's diagnostic capabilities and personalized programming are powered by the PNOĒ cardio-metabolic analyzer, the breath analysis device that democratized the power of cardio-metabolic analysis. For more than 100 years, breath-based cardio-metabolic analysis has been the gold standard in assessing heart, lung and metabolic fitness, as well as nutrition and exercise programming, but was always restricted to labs, clinics and hospitals. 
PNOĒ has now made it accessible to everyone. PNOĒ has delivered the benefits of cardio-metabolic analysis to more than 40,000  individuals from world champions to everyday people. PNOĒ is also reportedly being used by more than 1,000 facilities to personalize clients' programming and has been a source of continuing education for all kinds of health professionals including coaches, nutritionists, physical therapists and medical professionals.  
Start From the Inside Out
Mighty Leaf founders, Jill Portman and Gary Shinner, deepen the results of already functional teas and coffees with Good Pharma, a beverage company that doesn't sacrifice taste for health, creating easy to enjoy beverages based on centuries of wisdom. 
Portman believes tea is a ritual and vehicle to transport the guest into a remarkable experience: "[It's] not just lux or memorable, it's got to be remarkable." 
You have to start from the inside as well. Researchers have found that drinking tea reduces your cortisol levels. With this, you can enjoy a massage or any spa experience.    
Sex Becoming Apart of the Conversation 
Beloved is at the forefront of luxurious (and a little naughty) sexual wellness for women by women. Sara Gold, founder and CEO, believes this category is moving even more mainstream with more defined niches.
"A 60-year-old, affluent woman who has been married for 30 years wants (and frankly needs) different products than a 20-year-old college student who is exploring her sexuality for the first time," Gold says.      
She adds, "One-size-fits-all, xxx-rated, technicolor, macho, hide-it-in-your-drawer sex products are passe."
Spas Strive to be More Eco-conscious
Being eco-conscious is hot right now and technology has made it possible and more affordable. The Force of Nature cleaning appliance converts salt water and vinegar into a multi-purpose cleaner and medical grade EPA-registered disinfectant that reportedly kills 99.9% of germs.    
Chief commercial officer, Dane Poeske, explains how the company's non-toxic, safe-to-use cleaner purportedly reduces costs at around $10.00/gallon and is an easy switch for spas and salons, available through Universal Companies.  
"Traditional cleaning products use toxic chemicals that can adversely impact 30% of the staff and patients," Poeske claims. "In fact, hundreds of both large and small spas are making a change to healthier cleaning products while saving up to 80%."
These concerns will hopefully be addressed as time goes on.  
Force of Nature is endorsed by the Psoriasis Foundation for sensitive skin, is Green Seal certified as safe, and is reportedly the first multipurpose cleaner and disinfectant that is carbon-neutral. 
As the concern over COVID wanes, spas will look for ways to cut their cleaning costs, simplify their cleaning protocols and move to less toxic cleaners to protect their beds and other physical assets. 
An Evolution
McNees reminds people who work in spas that, "We tend to be mindful of our guests' stress levels and mindsets while denying ourselves the grace to live in the moment and focus on our own needs. We are better caregivers to our clients when we are also caring for ourselves."  
Overall, the spa world is going through a mountain of changes from technological advancements to self-care improvements to redefined medicine to cleaner materials to inclusive sexual wellness to spiritual awakening and more. It's a ripple effect creating a positive impact on spa facilities, health and wellness companies, staff, specialists and consumers. 
An upgraded, tech-assisted, multi-sensory experience is being created for our wellbeing. Products, services and treatments from spa centers and brands won't just be offered, they will go a step beyond to activate and engage. It's all about what we need as we evolve, and this natural and high-tech fusion will continue to shape the spa industry.   
On a bigger scale, Feeney is also very excited about the evolution of spa design, development and concepting happening throughout the U.S. spa channel.
"At AAG, we are breaking from the mold of the traditional spa layout to a more social, collaborative experience," Feeney says. "There are a few contributing factors nudging us in that direction;lack of treatment staff and the elevated profit demanded by developers and owners. All you have to do is visit a few of these facilities and you will be blown away by the guest demographics and volume of guests on a daily basis, [including] SoJo SpaClub, Aire Ancient Baths and the newly opened World Spa in New York. I love this concept and believe it will continue to expand throughout the United States."  
The paradigm is shifting. The spa experience has always been treatment-focused, but this approach is about the entirety of a spa experience, with or without a treatment.