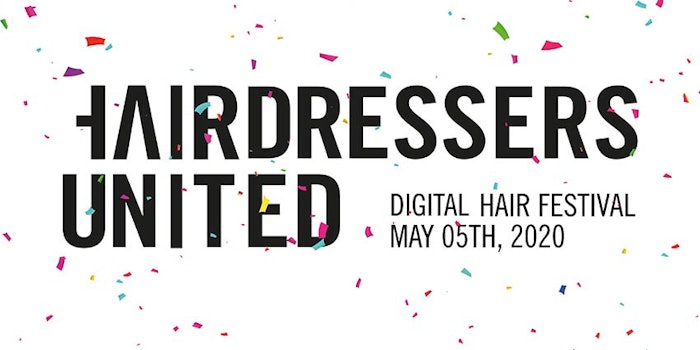 Henkel Beauty Care Professional has announced the launch of Hairdressers United, a 24-hour global online hair festival broadcasting May 5, 2020. In a celebration of solidarity with the hairdressing industry, the digital charity event brings together some of the world's biggest hair and beauty care professionals under one digital roof.
Related: Henkel, Viviscal & More Contribute to PBA COVID-19 Relief Fund
The 24-hour livestream event will see 36 different hair artists, from 19 countries–that's 13 different time zones–present a variety of educational and creatively inspiring content that showcases:
Hair coloration how-to's, including blonding, balayage and blur techniques
Cut and styling inspiration, including barber art
Up-do tutorials, including bridal and braiding trends
Hairdressers United Digital Festival Charity in collaboration with Fritz Henkel Stiftung
At this globally challenging time, everyone–hairdresser and client alike–needs to feel a strong sense of community that may be missing for some individuals. With this in mind, Henkel took the decision to make Hairdressers United a charity event, aiming to raise funds through user engagement and donations during the live stream.
Any revenue will be given back to the community, with a percentage matched by Henkel and the Fritz Henkel Stiftung–up to €100,000–and regions will also have the opportunity to promote where the funds will go, whether that be a specific industry body that's in need, or the Red Cross or United Ways.
As a "first-of-its-kind" event, the hair festival also aims to set a new Guinness World Records title on May 5, 2020, for the "longest online hair education seminar streamed over the internet."
Powered by social media, the event will be hosted across Instagram and Facebook, with YouTube on hand to support creative content during short breaks between livestreams. Each hair artist will be streaming for 45 minutes to demo their specialist area; content will also include information on how viewers can support with both the fundraising aspect and world record attempt, as well as a highly anticipated Q&A session.
Make sure to follow brand accounts @schwarzkopfpro, @joico, @alterna, @pravana, @kenra, @sexyhair, @indola, @authenticbeautyconcept, country channels as well as the respective artist accounts.
Henkel Beauty Care Professional Brands and Hair Artists
A unique event, the experience unites all Henkel Beauty Care Professional brands and is set to inspire hair and beauty professionals at all levels and experience. The Henkel family of beauty care brands, as well as the stylists representing those brands, are as follows:
Schwarzkopf Professional: hair artists include the likes of U.K. ambassadors, Lesley Jennison (@lesleyjennison) and Tyler Johnston (@tylerjohnstonhair). As well as U.S. ambassador, Linh Phan (@bescene), Brazil ambassador Natan Correia (@natancorreia) and from Spain, the collaborative creative team X-presion (@xpresioncreativos)
Authentic Beauty Concept: ambassador Hester Wernert Rijn (@hesterwernert)
JOICO: ambassador Larisa Love (@larisadoll)
INDOLA: ambassador Denis Shefel (@shefeldenis)
Kenra: ambassador Lo Wheeler (@lo_wheelerdavis)
Sexy Hair: ambassador Antonio Estrada (@antestradahair)
#MyDentity: co-creator Guy Tang (@guy_tang)
Pravana: ambassador Taylor Rae (@taylorrae_hair)
Alterna: ambassador Paul Wintner (@wehostylist)