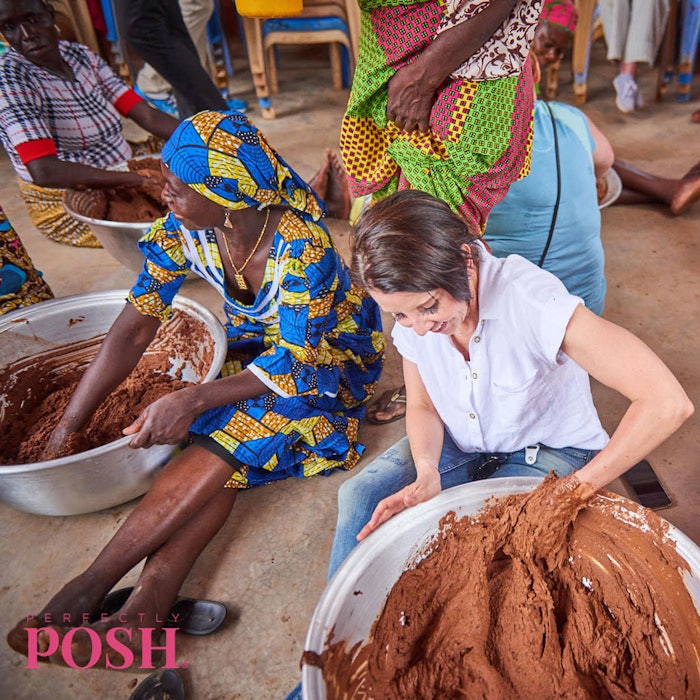 Perfectly Posh is a cosmetic company specializing in naturally based skin and body care products. 
In 2019, Perfectly Posh sought out a small village in Ghana, Africa called Gizaa Gundaa as the location of its shea processing center. 
According to the company, "The Shea Sisterhood quadrupled the shea income of Gizaa Gundaa in 2019 alone. Previously, the cooperative used to sell shea nuts and butter to the open market, in turn accepting the lower prices offered. Now, with the assured orders received from Perfectly Posh, the women of Gizaa Gundaa are provided with a stable and fair income. Due to this increased income, these women are better able to meet the needs of their families. They can purchase food, clothing, healthcare and send their children to school. In addition to impacting household income, Perfectly Posh partners with the Global Shea Alliance to help support sustainability practices and improved work conditions. Perfectly Posh offers over 40 products made with shea and 30 of them come from sources that support women's cooperatives."
The company offers three products—Giant Healer Stick, Always Ghana Love You Chunk Bar and Tribe Vibe Chunk Bath Bar—which contain a donation that goes directly toward supporting initiatives in the Gizaa Gundaa community.