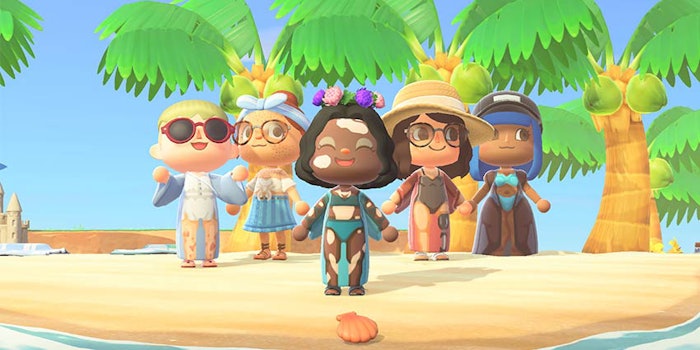 Nintendo's Animal Crossing: New Horizons quickly developed a cult following after its launch earlier in 2020, and now beauty brands are getting in on the video game. From launching virtual makeup and skin care for Animal Crossing villagers to use, to expanding skin tone designs to offer more skin-inclusive selections, beauty companies like Tatcha, Parfums Givenchy and Gillette Venus are paying attention to the Nintendo Switch game's overwhelming popularity.
Like Nintendo's other games in the saga, in Animal Crossing: New Horizons player's create an avatar, which they use to navigate the virtual town; however in the new game players live on an island, which they name and work toward expanding and improving.
Tatcha recently launched its cream cleanser The Rice Wash–in real life–and in correspondence the Japanese brand has created its own island in the game, Tatchaland, which it will open to players to visit on August 14, 2020, according to an article on The Cut. Once arriving on Tatchaland, players can visit onsen spas, tea houses and a bamboo forest.
Similarly, Parfums Givenchy has launched makeup options including multiple shades of its Prisme Libre Loose Powder, lip colors and heart stamps for player's characters, according to an article on GizmoPosts24.
In a slightly different approach, Gillette Venus teamed up with digital designer Nicole Cuddihy to launch the Skinclusive Summer Line by Venus, bringing more than 250 skin representations to avatars in the game. The new line is the brand's latest activation of its "My Skin. My Way." campaign.
The collection offers player's 19 skin types and 8 in-game skin tones, giving players the option to display freckles, acne, hair, cellulite, scars, stretch marks, vitiligo, psoriasis, differently-abled bodies and tattoos on their characters.
"In a world where there are so many explicit and implicit rules on how women should show or feel about their skin, skin-inclusivity and positive representation matters," said Anthony van Dijk, senior brand director of Venus North America. "The purpose of our 'My Skin. My Way' campaign is to ensure that we're putting out responsible imagery that represents reality and celebrates all types of skin, while also spotlighting the diverse skin stories of women all around the world. With Animal Crossing, we saw a unique opportunity to meet women where they are this summer by providing new ways to make gaming a more inclusive space, while also enabling them to gather virtually, safely on a beach to celebrate summer and skin inclusivity."