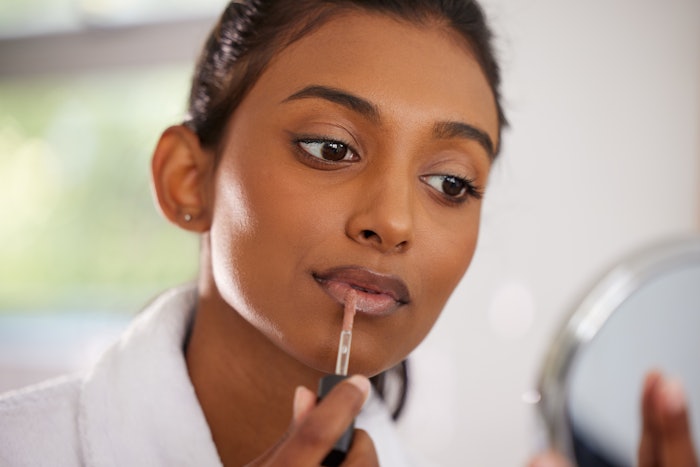 As worldwide inflation pushes up the costs of goods and services, budget-minded British beauty consumers would ditch skin care masks from their beauty routines to save money, followed by perfume and facial exfoliators, according to a new study from Beauty Daily by Clarins.
The Beauty Daily by Clarins study surveyed 2,000 British women to find out which beauty products they would forgo if money were an issue and the products they would continue to buy.
Skin care masks, perfume and facial exfoliators topped the list of beauty products Brits would drop if forced to make cutbacks in their budgets because respondents viewed those products as luxuries, not essential items.
The study found that Brits were more likely to remove skin care products from their beauty routines over makeup if they needed to save money.
In addition to skin care masks and facial exfoliators, toners, face serums, eye creams/eye serums, cleansers, primers, body exfoliators and lip balms rounded out the list of the top 10 non-essential beauty items budget-conscious Brits would stop buying.
While Brits would let go of many of their skin care products to save a few pounds, 83% of respondents in the study said they will still hold on to their face moisturizers. They consider moisturizers to be an essential component of their beauty regimens.
However, the study revealed that 92% of respondents would consider more affordable beauty items before removing them from their routines entirely. About 45% of respondents said they would buy a cheaper moisturizer, while 43% would purchase a less expensive cleanser.
Although budget-minded Brits are willing to slash some pounds off certain skin care products or sacrifice specific skin care products entirely, that's not the case for makeup.
They place more value on makeup over skin care. Only 12% of respondents said they would find cheaper alternatives for contour products, 13% for lashes and 14% for lip liner.   
Perfume is another beauty product that Brits are willing to give up. Because perfume is an expensive product, it is not surprising that Brits would remove it from their beauty routines if they didn't have adequate funds. But 57% of respondents cited fragrance is essential to their beauty routines if money was not an issue for them.
When it comes to professional beauty services, the study found that haircuts are the top treatment 38% of respondents said they would stop getting done professionally, followed by hair coloring, gel manicures and acrylics.
Sarah Joan Ross, editor of Beauty Daily by Clarins, said, "With the cost of living rising and a lot of women around the country having to make cutbacks, these findings are so insightful regarding how we spend on our beauty routines. I will certainly be looking at cutting back on a few items, except SPF! This should be considered a non-negotiable staple. There's also a case for looking into formulations—rich, high-tech and concentrated products that you use less of and inevitably can last much longer could be the way to go."
The Top 10 Beauty Products Brits Would Ditch if Money Was an Issue 
Face Masks 
Perfume 
Face Exfoliators 
Toner 
Face Serum  
Eye Cream/Eye Serum 
Cleanser 
Primer 
Body Exfoliator 
Lip Balm