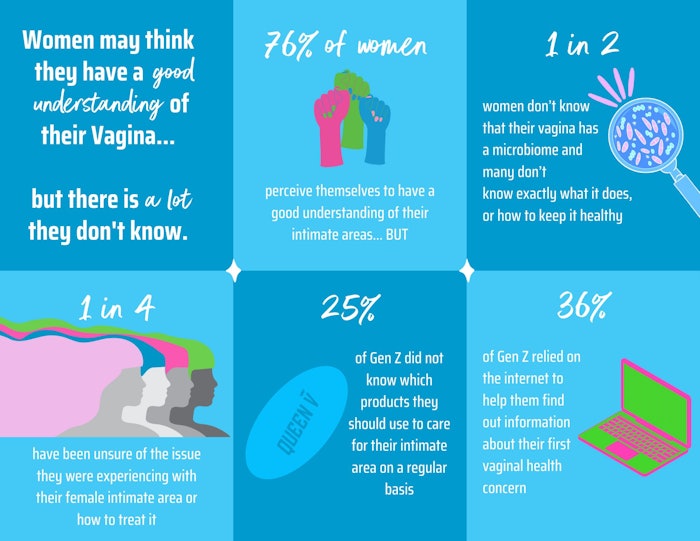 Queen V has released The V Files, a consumer report sharing women's feelings and attitudes toward their vagina.
In partnership with Harris Interactive, Queen V surveyed more than 1,550 females ages 18-35 on topics related to attitudes and feelings towards the vagina, vaginal health, sexual wellness and early intimate experiences.     
Queen V has teamed up with Betches Media to explore how vaginal health and wellness is impacting Gen Z and millennial women's emotional wellbeing and impacting daily lives.
The two female-led entities will use their platforms as an approachable resource for information by continuing to post a vagina-positive conversation fueled by facts and science. 
Key Takeaways:
1 in 2 women say their first intimate health issue had a negative impact on their emotional wellbeing, with 41% saying it made them not want to leave the house. 
59% of 18-24 Gen Z'ers agree that their first vaginal health concern lowered their confidence.      
51% of 18-24 Gen Z'ers agree that their first vaginal health concern made them feel like they had no one they could talk to.    
76% of women perceive themselves to have a good understanding of their intimate areas.    
Almost 1 in 4 women have been unsure of the issue they were experiencing with their female intimate area or how to treat it.     
25% of 18-24 Gen Z'ers did not know which products they should use to care for their intimate area on a regular basis.    
36% of 18-24 Gen Z'ers relied on the internet to help them find out information about their first vaginal health concern.    
56% worry about whether their intimate area has a bad odor, and around half (49%) say that when worried about this, they avoid having sex.    
Lauren Steinberg, founder and global brand marketing director at Queen V, said, "Our research shows that Gen Z and millennial women think about their vaginas a lot, and think they know a lot about vaginal health. However, when an issue arises, they don't know how to handle it. We are hearing from women that they lack information and resources, and often look to social media to answer sex and health-related questions. This leads to misinformation and unrealistic expectations of how your vagina should appear. This is causing women stress and anxiety and truly holding us back in daily life."