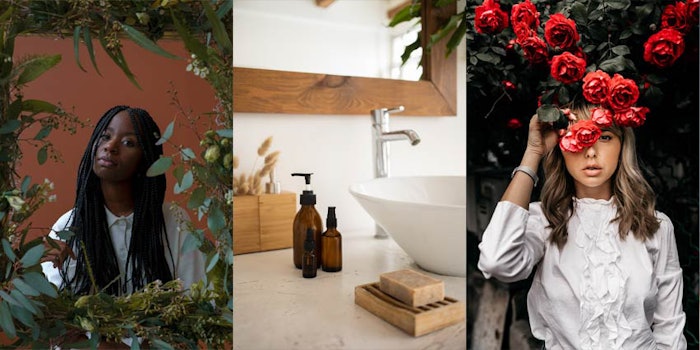 FIT's Cosmetics and Fragrance Marketing and Management Class of 2021* has unveiled its report, spanning 16 countries, on beauty consumerism's future. What they discovered was an increasing focus on circularity, as well as a need for flexibility in the wake of the COVID-19 pandemic.
The authors undertook original consumer research featuring more than 1,600 respondents, as well as interviews with 28 market experts across five continents.
Report: Envisioning Climate-positive Beauty
The Rise of Circularity
The first part of the study, focused on consumption, notes that "only 9% of the global economy is circular," per Accenture data, and that the untapped market opportunity "will be valued at $4.5 trillion by 2030."
This will require a values-forward approach, the researchers say, noting that "66% of global consumers align themselves with brands that mirror their values," per their own original research.
This strategy would center consumers as the most important stakeholders for brands and require an indexing tool the authors dub the Personal Impact Index (PII), which would "track every purchase to see how it aligns with their social values, such as transparency and sustainability."
PII data could be incentivized by tying higher scores to higher credit scores, while brands could leverage the data to model future purchasing behavior and marketing opportunities.
Global Cosmetic Industry asked the authors how they envision consumers and brands implementing a PII-type system. Here's what they had to say:
Consumers are seeking to gain more control over their lives and, consequently, our research has uncovered a shift in consumption, from short-term instant gratification to more long-term, worthwhile investments.
With this discovery, we predict consumers will be the first group to adopt the PII and brands will follow suit.
The PII will be an app-based management tool, where consumers can track each purchase they make to see how it aligns to their core values. Consequently, brands can then leverage this data to predict future purchasing behavior.
This new measurement will be extremely user-friendly and simple. Once a consumer inputs their recent purchase into the tool, they will be able to see its real-time impact reflected in their PII.
Imagine that we, as consumers, all had a stock price and the purchases we make, would drive our value up or down.
Staying Flexible
Values are also at the heart of the other marketing opportunity unearthed by the report's authors, which posits that shoppers shift among a range of values, including practicality, self-serving and community-building, depending on their moods, situations and core values.
The authors' original research found that "75% of U.S. consumers believe their purchasing decisions shift based on the circumstance they are in."
As a result, the report suggests that brands carefully track shifting consumer values and focus on intentional newness that centers on addressing the "62% of U.S. consumers say brands need less assortment and higher quality."
It also suggests tapping into the 70% of surveyed shoppers who prefer to buy online due to convenience or the fun factor.
Global Cosmetic Industry asked the authors about intentional newness and how this might impact brand strategies. Here's what they had to say:
Consumers are overwhelmed by choice, and are questioning how much they need. The FIT CFMM students' research shows that 62% of consumers believe that brands need less assortment and higher quality.
Brands should be thinking about how they can improve and/or bring meaning to consumers' lives. Increasing the quality and design of products while streamlining the number of SKUs is a great place to start.
If possible, brands should leverage the pre-owned market into their business model. They also need to incorporate intention into all buying channels—giving consumers the opportunity to be involved in the product cycle or have a voice in the campaign.
That also means brand communication needs to be intentional (no more excessive emails) and hyper-personalized.
"Each year 700 industry attendees come to FIT to review the findings of these emerging leaders on issues challenging the consumer products sector," said Stephan Kanlian, founder and professor of the Cosmetics and Fragrance Marketing and Management graduate program. "FIT students go on to present their capstone research to executive leadership within their own companies and at industry conferences around the world. This year's research explores the permanent shifts in consumer values, thinking, and purchase behavior caused by the global pandemic, easily the greatest disruption in corporate strategy and individual behavior patterns we are likely to see in our lifetimes."
*As in previous years, the names and affiliations of the authors have not been disclosed, though their work is available upon request from FIT.