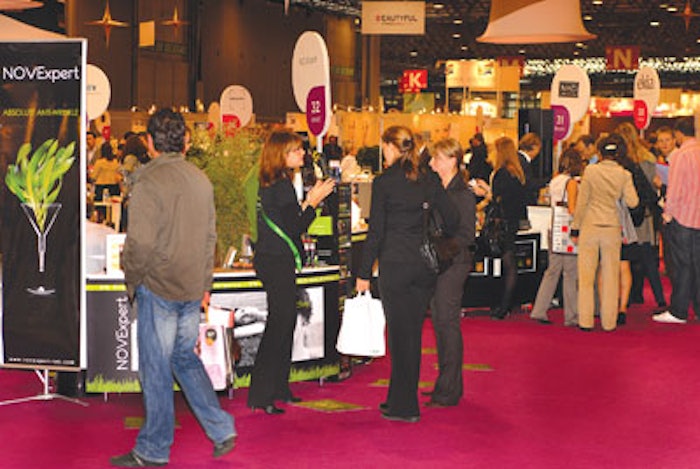 The five trade shows comprising the Beyond Beauty Paris event—Cosmeeting, Spa & Institut, Pharmameeting, Creative and Ingredients—together welcomed 18,300 visitors and featured 600 exhibitors, according to organizers. Buyers from key retailers including Sephora, Le Printemps, Douglas, Beauty Success, Marionnaud, Strawberry and Cream, Bergdorf Goodman and more were among the VIP visitors.
The Cosmeeting Natural and Bio space was home to pioneering brands including Anakae, Melvita, Omoye & Sommital, Phyt's and Weleda, along with European certifying organizations Ecocert, BDIH, Cosmebio, IBD, Natrue, and the Soil Association. "In a difficult market, natural beauty is the one taking market share," said David Bondi, president and CEO of ITEC France, the Beyond Beauty Paris organizer, in an exclusive interview with GCI magazine. He believes that the natural beauty section and the Zoom section for brands less than five years old, are highlights of the show.
Exhibitors in Zoom this year included the four winners of the annual Beauty Challenger Awards: Erborian, Jewels Beauty, Need, and Ainy, and 48 other entrants from around the world. Erborian Korean Skin Therapy won the first prize in the Cosmeeting group for its ginseng high-dose serum, an ultra-soft nano-emulsion made from Korean medicinal herbs.
The brand Need won first place in the Pharmameeting section for its "health sweets" candies made from gum arabic, plant ingredients, essential oils and natural colorants, with varieties for skin beauty, antioxidants, digestion, figure, toning and anti-stress. A special jury award, Coup de Coeur, went to Ainy, a five-treatment facial line made from plants from the Andes and Amazonia long used in healing rituals.
New to this year's show was a special exhibit called Food & Beauty in collaboration with SIAL, The Global Food Marketplace, a food industry event. In defining the exhibit, organizers said, "Finding wellness and beauty in food is an ancient concept that has at last been adopted in our modern world. The two industries are well aware of the phenomenon, and have moved into the 'cosmeto-food' sector in response." The exhibit included a display of innovative products crossing the line between food and cosmetics.
Bondi told GCI magazine he was pleased to work with SIAL "on the frontiers of food and beauty." The accompanying conference organized a discussion of three important topics: The new way of relating to the body, the new perspective on beauty and the implications for brands; Ingredients, textures and the imagination ... new articles of faith for fickle consumers; and Markets today and tomorrow. Speakers included Francoise Dassetto, White Spirit Packaging Design Agency; Laurence Bethines, director of the trends and innovation department at Team Creatif; and Jean-Marc Levy, director of The Marketing Studio.
Beyond Beauty Paris moves to the Port de Versaille Paris Expo next year and is scheduled for Sept. 15–17, 2009, according to Bondi, who told GCI magazine that he is looking forward to the move because it will give him "more opportunities to create synergies with interesting Paris events. Paris gives me more options for fun." He is looking to shape the annual event into a niche event for luxury beauty suppliers. "It is time for fresh ideas, not just a change of venue," says Bondi, "focusing on our strengths—not trying to be global."