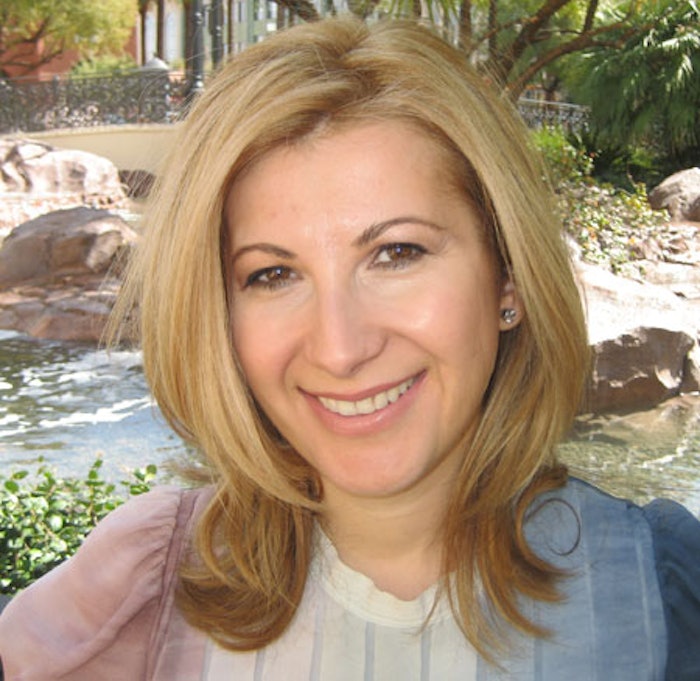 Daniela Ciocan, director of marketing for SoGeCos Americas/Cosmoprof North America, is responsible for keeping Cosmoprof NA fresh and new. As part of these efforts, Ciocan implemented initiatives such as Discover Beauty and the International Buyer Program, and focused on keeping on top of trends and education to catapult the show to a higher level and increase show attendance.
In its third year, the Discover Beauty Program continues to match new beauty brands with national and international retailers and unveil several remarkable new products to the current marketplace. Ciocan personally hand selects the brands for Discover Beauty, and, a testament to her vision of what is hot in the beauty industry, many high-end retailers look to Ciocan for the next big thing.
GCI magazine, which will have a presence in the Discover Beauty 2010 pavilion, asked Ciocan about Discover Beauty, its impact on brands and the industry, and leveraging her experience in brand building.
How has Discover Beauty evolved since its inception?
Ciocan: Discover Beauty (DB) has now evolved to include spa directors/key decision-makers, since many skin care lines are undecided on the distribution channel and can work both in a retail or spa environment. Most recently, the program (due to high demand) has been introduced to the European Cosmoprof edition with much success, and we now have the participation of not only U.S. specialty retailers but international ones as well. In addition, the caliber of brands we select continues to increase, and with the newly added Discover Beauty Award, we now have the opportunity to recognize innovation as seen by the keen expert eyes of the retail buyers.
You had experience overseeing all aspects of product brand management of Awake Cosmetics and other brands. How were you able to translate that experience in the development and implementation of Discover Beauty?
Ciocan: My experience as a marketer and brand developer has opened my eyes to the need of a program such as DB, where newly developed brands can meet and get instant feedback from key specialty retailers who are able to work and nurture small emerging brands. I thought if we could bring together the retail buyers seeking innovation and "newness" and the entrepreneurs with fresh ideas, it would be a win-win all around; in the course of a few hours, the buyers get to see what trends are developing and the brand founders can get invaluable advice which they are free to include in the development and marketing of their brands. This type of access is very difficult and costly, both financially and from a time perspective, to a new start-up business entrepreneur. My experience has allowed me to also play with formulas, packaging and has exposed me to that creative side of the industry allowing me to recognize excellence and give it the necessary spotlight at the show and within the program.
Can you talk about the process of hand selecting brands that will be part of Discover Beauty 2010? What do brands such as these bring to the beauty industry? How do the ideas of innovative start-ups spark the industry as a whole?
Ciocan: When we hand select brands, we look at the total brand concept: formula, packaging components, package design, brand story, ingredient use and the current distribution model, if any. All the elements must elegantly build upon one another in order to have a strong brand that the specialty retail organizations in attendance will enjoy discovering. The brands can be from within the U.S. or they could be established brands abroad but are not yet distributed in the U.S. marketplace.
These brands bring excitement and new innovative concepts to the industry that can then trickle into more mainstream brands. In the past, we have had niche brands that were then acquired by large multinational companies in recognition of their unique position and fresh ideas.
Cosmoprof North America, will be held July 18–20, 2010, at the Mandalay Convention Center in Las Vegas. Jeff Falk, senior editor of GCI magazine, will serve as the moderator for the "Look Back, Look Ahead, Look Within" conference tract, which looks at how consumer perception of exclusivity, luxury and well-being are changing the shape of the beauty industry.