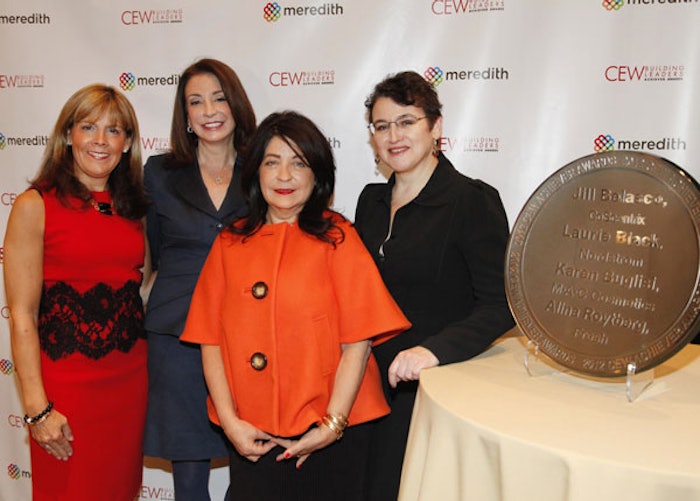 The 37th Annual Cosmetic Executive Women's (CEW) Achiever Award luncheon honored four of the industry's most accomplished women on November 12, 2012, at New York's Waldorf-Astoria. Despite a postponement and rescheduling of the event due to the impact of Hurricane Sandy, which devastated portions of the Northeast U.S., the Achiever Awards luncheon drew more than 1,000 attendees, and took place with the enthusiasm and collegial spirit that continues to distinguish the event each year.
Carlotta Jacobson, president, CEW, recognized the organization's staff and the efforts of the individuals who made the rescheduling seamless, and acknowledged the winners of the 2012 honors, which recognize the achievements of the cosmetic industry's most talented women who also serve as an inspirations for future women leaders. The 2012 CEW Achievers were Jill Belasco, founder and CEO, CoScentrix; Laurie Black, executive vice president, general merchandise manager, cosmetics, Fresh.
In addition, Laurice Rahmé, president and founder, Bond No. 9 New York, received CEW's Great Idea Award for Fragrance Innovation. This award recognizes a woman who has made an impact in the perfume industry by creating a new product category, satisfying unmet consumer needs or cultivating an untapped market, and was sponsored by International Flavors & Fragrances (IFF). Also recognized by CEW, L'Oréal USA was honored with the Corporate Empowerment for Women Award, which recognizes a company that has demonstrated exceptional commitment to the advancement of women.
Celebrating Success
According to Jacobson, "The Achievers acknowledged today, who have contributed so much to growing this industry, without fail all credit their team, as well as their mentors, for their success." She added, "This event is unique because it is dedicated to recognizing and celebrating the success of women in the beauty industry. The achievements of these remarkable female leaders and role models are so inspirational to the entire beauty community."
Christophe de Villeplee, vice president, fine fragrance and beauty care worldwide, IFF, introduced the Great Idea Award for Fragrance Innovation, presenting it to Rahmé. He explained that the award recognizes those who take an idea and develop it into a great idea. "Creating a fragrance is like a story," he said, noting that Rahmé had created many love stories with fragrance, and her work represents the epitome of fragrance design creativity. "She celebrates the mystery and appeal of New York, from Madison Avenue to Chinatown, and has absorbed and translated its stories into perfume," said de Villeplee.
Rahmé elaborated in her acceptance, saying, "I love this city and have had a love affair with it for 30 years. On September 11, this love affair became a true passion. That became the catalyst for me, and Bond No. 9 was born on Bond Street. I wanted to make the city smell good again. I wanted to make New York the capital of perfume."
Jacobson turned the conversation to the role of women in the industry, segueing into the importance of leveraging women's talent and the integral place of professional and personal fulfillment in the lives of women today. "Let's face it, women are the life blood of this industry, and as economic challenges have become greater, women have continued to make a difference," she said. "The Corporate Empowerment for Women Award recognizes the central role women play in this industry, and this year's winner, L'Oréal USA, is being recognized for supporting women's dreams and going the extra mile with corporate initiatives, doing business differently and supporting the mantra 'Because I'm worth it,' for every woman, everywhere."
Frederic Roze, president and CEO, L'Oréal USA, who was seated on stage with Carol Hamilton, president of luxury products division, and Karen Fondu, president of L'Oréal Paris, accepted the award on behalf of the company, saying, "Women are the heart of our company. They represent 65% of the company's work force, and their intimate knowledge of beauty has helped L'Oréal become the number one company in beauty. We are empowering women beyond the scope of the business, have partnered with UNESCO, and believe powerful women can change the world."
Achievers and Entrepreneurial Spirit
While each honoree has had a distinguished and unique career path, there are specific commonalities that they share. Among them are discipline, vision, hard work, passion and the ability to make tough choices while attempting to achieve balance among work, family and friends. No small task when they are running companies in one of the most competitive industries in the world.
David Belasco, general counsel and brother to the CEO CoScentrix, described how honoree Jill Belasco exemplifies these qualities. "Jill loves the industry, and for those of you who know her, she's in the office at 5 a.m. and she works hard," he said. She spent the first half of her career in the corporate world, working in the cosmetics division of the May Co. and also in field sales. In 1994, when the company she worked for at the time, Monet Jewelry, filed for bankruptcy, she found herself without a job. This moment, according to her brother, was pivotal. A call from a friend led to a consulting position in private label fragrance, and Belasco became an entrepreneur with the creation of her company, Latitudes. According to her brother, she sold her business in 2007 to a public company, and, "Instead of relaxing, she stayed on as CEO, buying back some of the company, and keeping her team together." This is the same team that works with her now at CoScentrix, the company she founded earlier this year, which also enables her to keep jobs and manufacturing here in the U.S.
Belasco, clearly moved by her brother's tribute, made a point of emphasizing relationships and pride in her team. "Entrepreneurship is not for the faint of heart," she says. "The first thing is to know for sure that opening a business is what you love and what you want to do. Be bold, be brave, be 150% present all the time and be compassionate. The people that support you, they'll be there to help your dream come true." Belasco also acknowledged that while it is important to venture out of your comfort zone, it is also important to have relationships in business, and she recognized the great network of people in her career who have listened, advised and helped when she needed it most.
Laurie Black's award was presented by Gemma Lionello, vice president, south regional manager, Nordstrom, who recognized Black as a woman who is "relentless in her pursuit of excellence, and has a passion for her team and her customers." Black, who was a fashion design major at the University of Washington, planned to be a designer. She worked part-time at Nordstrom throughout college, and when her department manager was promoted, she was offered the position and spent the next 20 years as a buyer, store manager, corporate merchandiser and then president of the Nordstrom Rack Division. In her five years at the Rack at Nordstrom, she doubled business from $500 million to $1 billion, which she attributes to aligning product and service with the Rack customer. For the past five, years she has been the company's general merchandise manager for cosmetics and executive vice president, a role that has brought her into the customer-centric world of selling and service.
Black says, "Do what the customer wants and you'll have success." Black has learned a great deal about this industry since she took on her current role, and counts being well rounded as a beauty asset, noting that all of her roles at Nordstrom give her a well-rounded approach to business overall. Black suggests that you may like what you think you won't, and says that women should go through doors that are opened to them even if they like where they are, suggesting that you can sometimes find the right fit unexpectedly. Black thanked her partners, acknowledged the Nordstrom leadership team, and said, "I am so proud to be part of such an accomplished team."
Pamela Baxter, president and CEO, LVMH perfume and cosmetics, North America & Christian Dior, presented the final honors to Alina Roytberg, who came to the U.S. via Rome and the Soviet Union in 1978 when she was still in high school, followed a passion for fashion with art classes. She later moved from Boston to New York, where she attended Parsons School of Design. Her background in art is evidenced by the design and packaging of Fresh products, which reveal her passion for textiles and prints. She added what she refers to as "an essential brand code for our Fresh look."
After reuniting with an old friend, Lev Glazman, a fellow Russian via Israel, Roytberg embarked on a business opportunity called Nuts About Beauty in 1991, and the store was registered under the Fresh banner later that year. She says, "I was fortunate to have a dream since I was 12 years old, and I'm grateful to my parents for immigrating to the U.S. From starting out in fashion and spending the last 21 years in beauty, I have found that the most important part has been meeting and working with women. Men work and they work hard, but women are born strong, and we can empower ourselves and one another. We can showcase our peers and one another's talents."
Roytberg, who says her secret to success is based on staying true to who you are, developing a professional mantra and leading by example, ended her acceptance by saying, "I want to thank my peers in this industry and thank my team for their passion and their loyalty. I aspire to be in this work and of this world. This is a very special moment for me."
Sponsors for this event included the Meredith Corporation, International Flavors & Fragrances, Arcade Marketing, Beauty Inc, Always, The American Association of University Women, Laura Mercier Cosmetics, Ulta Beauty, Revlon, Wells Fargo Securities, Belasco Family Foundation, Interpublic Group, HSN, Acxiom, WWD, Indelible, Suite K, Consultancy Media, and Kaplow Communications.