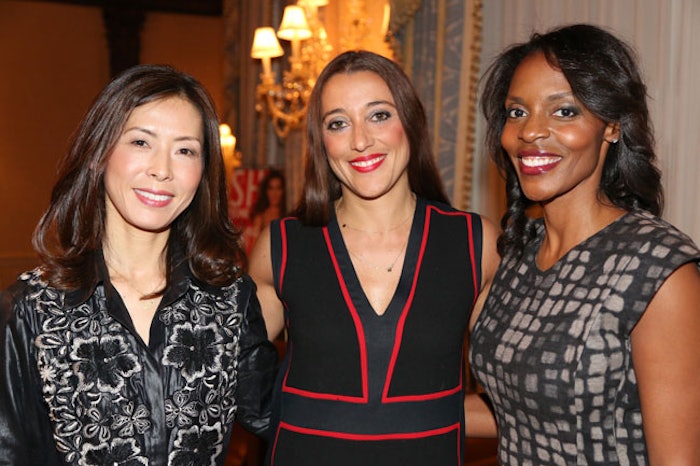 CEW held its Women & Men in Beauty Series for 2012 with a focus on prestige skin care's top innovators November 29, 2012. CEW chairwoman Jill Scalamandre welcomed attendees, noting that skin care, largely fueled by anti-aging, is a category crucial to the beauty industry. She then introduced Charisse Ford, senior vice president, global marketing, Estée Lauder; Silvia Galfo, senior vice president, marketing, U.S., Lancôme; and Tomoko Yamagishi-Dressler, senior vice president, marketing, Shiseido Cosmetics America;  to share their strategies and insights into marketing prestige skin care in a changing consumer environment.
Prestige Skin Care Resonates for Consumers
"It's been a great year for Lancôme and innovation and performance have been driving the category; serums have been very strong. We'll finish the year with $40 million at retail," said Galfo, citing the strong performance of Lancôme's eye care category as well as the success of Lancôme's Visionnaire launch, an anti-aging skin corrector.
"Newness, innovation and technology in the prestige market are key," added Yamagishi-Dressler. "This includes anti-aging and premium products. The customer today is looking for beauty targeted solutions." Ford supported reinvention, saying, "What's old can be new," citing Lauder's Advanced Night Repair Serum. "It's been in the market for 30 years, and we've been able to introduce it to women around the world. We have been able to express older products in a new way." Ford, who spearheaded the launch of Advanced Night Repair Synchronized Recovery Complex, also created innovative 360-degree marketing programs for Re-Nutriv Ultimate lift Age-Correcting Collection and the Double Wear Foundation franchise.
Yamagishi-Dressler, noted the ongoing potential and growth in brightening and BB creams (what she considers a "killer category"), saying, "The brightening category will continue to grow, as well as the successful BB cream category. The success of the BB cream indicates that the customer wants products that offer multiple benefits. These areas, as well as growth in at-home treatment products with professional level efficacy for use in the comfort of the customer's home, will also grow."
Galfo said women seek performance in their beauty products, and in response to a query about whether BB creams might be cannibalizing other products, she said, "Women want instant results without losing long term effect, so better-performing or enhanced moisturizers are sought by women. BB creams are not cannibalizing, as women want choices." Ford concurred, noting that women are taking a lot better care of their skin, so BB creams are a "perfect solution."
Looking at Eyes
Ford addressed questions regarding the eye category, with skin 40% thinner than skin on the rest of the face, it requires special treatment, noting that Lauder has been particularly strong in this area due, in part, to the success of Advanced Night Repair.
Galfo noted the success of Génifique, adding, "The eye is an area of great concern, particularly the bags under the eyes. The Génifique applicator combines a massage action with active ingredients and has a strong result on eye bags." She noted that the cream targets dark circles, while the serum, targets under eye bags.
Overall, too, technology and subsequent targeted products continue to play an important role in the prestige market, noted Yamagishi-Dressler, saying, "Shiseido started as a Western style pharmacy 120 years ago and the company took a lot of time with research, noting all the skin problems that existed and created targeted solutions."
Devices and Innovations
Growth of the skin care market has also been enhanced by the introduction of numerous cosmetic devices. Clarisonic's success, as one example, has impacted business significantly, said Ford.
"Clarisonic is a terrific product. They've fused a mundane experience with technology, making it visually exciting. What we've learned from this is that skin care can be fun," she said.
Targeting the skin with technological solutions is in growth mode. Galfo noted, "The fact that it's sold close to the beauty counter has complemented its ease with other brands. It's amazing how skin care products can be enhanced with its use."
Yamagishi-Dressler added, "It was inspired by the sonic toothbrush, which shows us that we can learn from other technologies and adapt them for beauty use. Customers are willing to pay for the quality and performance.
"Innovative advances in technology are topics of interest. Clarisonic, although not a small brand, shows that the right product can be a category killer in one area, with high levels of research being key to success in an area," Yamagishi-Dressler continued. "If you have a great idea that's out of the box, you'll be able to find collaborators. The efficacy of the product, whether it's from a smaller brand or not, is key. If there's a unique idea, there's always a way to get it into the market."
Consumer Experience
In response to what kind of experience the consumer is seeking today, Ford offered, "Consumers are still buying skin care. It's at a seven-year high, and it's not considered a luxury but a necessity. I expect it to grow." Keeping the consumer engaged will impact the results, however. "As long as we do a good job of keeping up with expectations, I think the skin care category will continue to grow," said Yamagishi-Dressler.
"The customer wants diagnostics and an emotional touch point at counter," added Galfo, noting the importance of understanding the demographic needs of women. Ford noted the growth of the emerging middle class in China, the multi-ethnic consumers, and the increase in size of the aging population. "These are huge opportunities," she said. Yamagishi-Dressler concurred, "Latin America consumers, as well as Asian consumers, are educated about skin care and both devote spending to beauty." She indicated that these demographics will bode well for Shiseido.
Galfo highlighted the specific needs within the demographics. "Latin women are concerned about wrinkles, and Asian women have different interests, so both the formulations you create, as well as the way you speak to each demographic, are important."
The Retail Environment
Noting that Amazon is now entrenched in beauty retail, Galfo said that it is important that the luxury environment be created. "They may have Lauder, Lancôme, and Shiseido on Amazon, however it's important to create the luxury environment."
Ford added, "I think it will put beauty on a grander scale," noting that word of mouth is also key. "Amazon is a great commercial site and we should learn from them and make it work for us," said Yamagishi-Dressler, while Ford added, "Navigation is key. Getting consumers what they want in their language and creating the right product fit is very important, as is product selection."
"It has to be well tailored and edited. The packaging, the messaging and the education have to be crystal clear, or it might be confusing," said Yamagishi-Dressler. Galfo emphasized the need for clarity as well. "It must communicate as simply as possible," she said. In discussing new retail formats, she noted a store in Tokyo with an open sell environment that combines a Sephora-like atmosphere while also providing a consultation service."
"Taking cues from the customer as to what kind of service she wants is very important," said Ford.
"With fragrance, customers can shop by environment or mood; this is different than with skin care," said Galfo. "The customer wants something very luxurious. It's part of the after-recession effect, where customers want to do something good for themselves."
While the observation is positive, targeting continues to remain a predominant thread in the discussion surrounding retail. Providing samples for customers, giving men more convenient ways to shop and expanding reach with more targeted efforts were among the ideas suggested.
The panelists agreed that social media is an effective way to drive business, noting that social media engages people in conversation about products, provides feedback, and, as Yamagishi-Dressler noted, offers a platform for social engagement around the individuals who have used the products.
The event was sponsored by Shape, Givaudan, Mark, 24 Seven Inc., HauteLook, Dermstore Beauty Group, ModiFace, Beauty Inc, WWD, Kaplow Communications and Indelible.