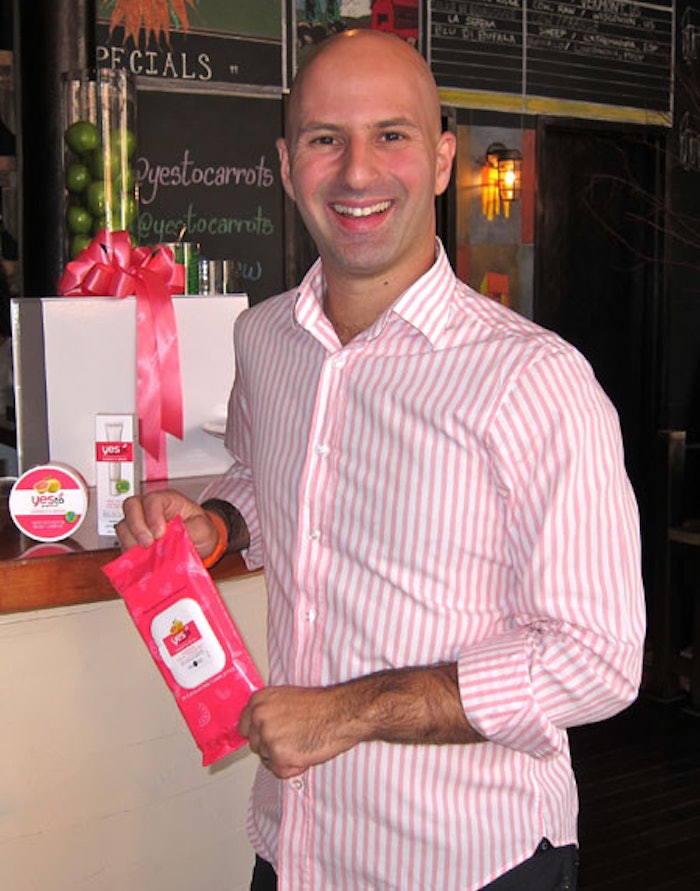 Ido Leffler's enthusiasm is infectious, and it's no wonder. The creator of the Yes To brand, which has garnered a prodigious fan base since its founding in 2006, happily supports the natural, good for you ingredient profile and philanthropic bent that are at the core of the brand's proposition. Skin and hair care products can be functional, natural, and affordable too, according to Leffler, and the Yes To brand (which now features more than 80 products in its Yes To Carrots, Yes To Tomatoes, Yes To Cucumbers, Yes To Baby Carrots, and Yes To Blueberries collections), has just announced its "newest baby," says, Leffler, the Yes To Grapefruit line, which will launch in March 2013.
The Yes To family, according to Leffler, was born out of the desire to make consumers look and feel their most happy and radiant, and while it provides products that are good for you, the brand also helps to do good for others, most significantly with its Yes To Carrots Seed Fund, a non-profit organization that makes a difference in children's lives through the creation of school gardens and micro-farms in Africa. Leffler estimates their projects will contribute to feeding more than 10,000 children each day. A combination of quality ingredients, philanthropy, and ultimately good business sense continue to propel the brand's growth. According to Leffler, the Yes To brand has become the second biggest natural brand in the U.S., and is currently in 28,000 stores around the world.
Repair and Correct
The latest line of products, the Yes To Grapefruit collection, is first and foremost, targeted to repair and correct. Said Leffler, "This line of products is targeted for people who are just starting to see the signs of aging, when age spots and sun spots start to appear on the face and body."
The line, which has undergone clinical trials and extensive research and planning, is claimed to provide noticeable differences in the skin within four weeks. "You will see a remarkable transformation of pigmentation spots," says Leffler, who introduced the range of products, noting the four "Love Points," upon which the line was created. "One, you will love how the product works. Two, you will love how the product looks. Three, you will love the price (all under $20.); and Four, You will love to tell your friends about it."
The Line
Yes To Grapefruit Brightening Facial Towelettes, designed to exfoliate, cleanse, and moisturize, are said to leave the face refreshed and bright. They contain fruit acids, including grapefruit, which is rich in antioxidants such as lycopene and vitamin C, as well as citrus flavanoids, with soothing agents. In addition, the towelettes are compostable, paraben-free, and contain the Yes To Grapefruit formulation blend designed to reduce hyper-pigmentation, correct skin damage, and enhance skin radiance. Brightening Facial Towelettes retail for $5.99, per 25-count package.
Yes To Grapefruit Daily Facial Scrub is formulated with lemon balm to boost skin radiance and grapefruit for exfoliating. The scrub is claimed to be gentle, sloughs away dead skin, and helps repair damaged skin, age spots, sun spots, and hyper-pigmentation. Grapefruit extract in the formulation aids in warding off free radicals and minimizing skin discoloration, while promoting healthy, even skin tone, and radiance. Lemon balm extract is said to calm and repair damaged skin, while restoring a healthy glow. It retails for $9.99, 4 fl oz/113 g.
Even Skin Tone Moisturizer with SPF 15 is claimed to help diminish the appearance of dark spots in four weeks. It is formulated with Moringa oil, a skin conditioning moisturizer rich in fatty acids and vitamins A and C, and also contains grapefruit extract to help fade age spots and increase luminosity. The products also contains passion flower, to naturally soothe the skin and prevent redness, and broad spectrum SPF 15 protection, with zinc oxide and titanium oxide. It retails for $15.99, 1.4 fl oz/41 ml.
Dark Spot Correcting Serum features a tropical scent and a powerful blend of fruit acids, including mulberry fruit, white tea and grapefruit, and is said to make skin firmer, visibly diminish the appearance of dark spots in four weeks, and reduce facial imperfections, while making the face brighter and more even toned. Grapefruit extract, rich in citrus flavanoids; white tea, to help repair sun damage and correct pigmentation irregularities; and African star grass, a power plant said to even the skin tone, fade age spots, and diminish freckles and hyper-pigmentation comprise the blend. The serum is to be applied over face and neck twice a day, and followed with Yes To moisturizer. Yes To Dark Spot Correcting Serum retails for $19.99.
Dark Circle Correcting Eye Cream features Indian gooseberry, rich in antioxidants and Vitamin C, licorice extract to soothe redness and puffiness, and crambe abyssinica oil, a non-greasy oil which provides lipids to improve skin tone and texture. In combination with the grapefruit extract, the formulation is claimed to gently diminish the appearance of dark circles in four weeks. Yes To Grapefruit Dark Circle Correcting Cream retails for $15.99, 0.5 fl oz/15 ml.
Yes To Grapefruit Exfoliating Body Wash, which Leffler notes, aligns with the current European trend for exfoliating body scrubs, is claimed to be a healthy way to promote skin renewal, improve skin's elasticity, and add firmness and tone. In addition to grapefruit extract and a gentle, tropical scent, the formulation blends pumice derived from volcanic rock, to exfoliate the skin naturally and gently, and alantoin to help moisturize the skin, leaving it smooth and nourished. It retails for $9.99, 6 fl oz/170 g.
Yes To Grapefruit Dark Spot Correcting Body Crème, which is said to smell like the tropical air of Barbados, is formulated with masterwort and capsicum fruit extract, which are cultivated from the Swiss Alps, and claimed to repair skin imperfections and reduce puffiness. The plant is said to be able to protect itself from harsh conditions by producing rich flavanoids and phenolic acids. Grapefruit extract wards off free radicals and argan oil helps to fade skin imperfections, in a blend designed to leave skin feeling firmer and smoother. Yes To Grapefruit Dark Spot Correcting Body Crème retails for $9.99, 6 fl oz/170 g.
Transition to Natural; Social Responsibility
The line, claims Leffler, has created a great deal of excitement at Yes To, not only for its extensive clinical trials and its two years in the making process, but for the statement it is making about the transition to natural products. "What's really important and the goal of Yes To is to make the transition to natural products without compromise. To me, it's about creating a line that does that. The team that put this line together represents all of you. We've gotten amazing results from our clinical trials and we've created a line that's for all of us. We're the guinea pigs," said Leffler, adding, "We're driven by the positivity of Yes To, and have never been more excited about a launch."
The products have also enabled Leffler to partner with such organizations as Comfort the Children and Yes To Hope, which helps children learn where their food comes from and assists in the creation of micro-farms, expanded educational facilities, and works to makes positive changes in people's lives. The collection will launch in March 2013 at Target and www.yestocarrots.com.
Additional information about the products and initiatives may be found at www.yestocarrots.com and www.yestocarrots.com/seedfund.