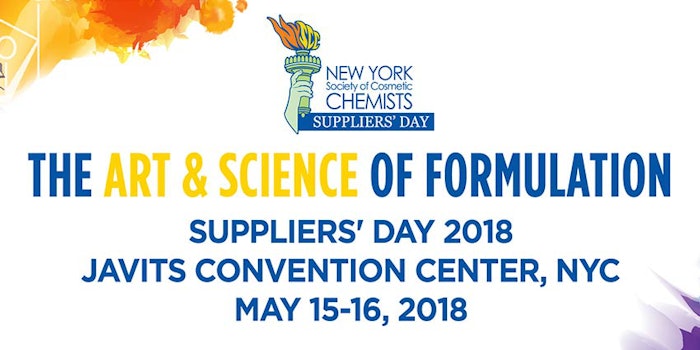 12:10pm – 12:45pm
Global Cosmetic Industry magazine and the New York Society of Cosmetic Chemists (NYSCC) will present "Digital Age of Beauty" during day two of Suppliers' Day 2018.
Global Cosmetic Industry Editor-in-Chief, Jeb Gleason-Allured, will moderate a session centered around e-marketing solutions that drive consumer engagement and impact final production.
The program kicks off with "Private Eye: How Digital Technologies are Influencing Product Purchase" (10:00–10:20 a.m.) with Sarah Jindal, senior global innovation and insight analyst, beauty and personal care at Mintel. The segment will address the significance of data security as consumers become more aware of the ways in which their information is being collected and used.
During "Using Your Unique Voice to Engage, Story Tell, and Create Brand Awareness In A Digital World" (10:25–10:50 a.m.), Behind the Brand/The Healthy Entrepreneur CEO Jennifer Walsh discuss authentic storytelling in the digital age.
"Designing Packaging for Omni-Channel Beauty Consumers" (10:55–11:20 a.m.) sees Sheri L. Koeting, CEO of MSLK, reviewing the facts that make sure packaging is successful across platforms: retail, e-commerce, social media, public relations and home shopping.
[UPDATE 1]
11:45am – 12:10pm: "Product Innovation, Personalization & Customization through Digitalization" will feature Anne Karagoz, president, Coptis, Inc. "Using technology and digital solutions can reduce frustrating and time-consuming procedures while improving traceability, efficiency and ingredient sourcing. The ability to update, personalize, and customize formulations can be a time-consuming process for formulators, however, there are solutions in cosmetic R&D that are aimed at continuously improving formulator's laboratory work, while assisting in regulatory issues and compliance. Anne Karagoz of Coptis with over 20 years of experience in this space will demonstrate how digitalization enables new processes in a collaborative environment which improves decision making on every level and increases speed to market with utmost reliability of information.
[UPDATE 2]

12:10pm – 12:45pm: "Excitement, Education & e-Commerce! Accessibility is Key for Consumers" will feature Molly Dufner – V.P. ecommerce, digital & CRM – bareMinerals/Shiseido Americas Corp. "Interacting with consumers online and providing them education on ingredients and products that fit their lifestyle keeps them coming back. Tying those same products with what's in the news or on the red carpet increases that engagement. Learn how one of the leading cosmetics/skin care providers is creating an unbeatable path-to-purchase."
"Digital Age of Beauty" will be held in meeting room 1A21 (adjacent to the show floor) May 16, 2018, 10:00 am–1:00 pm. NYSCC Suppliers' Day, The Art & Science of Formulation, will be held May 15–16, 2018 in New York City.