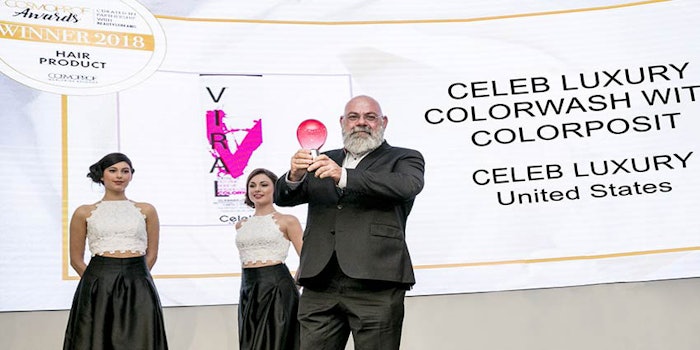 Celeb Luxury was voted Top Hair Product for 2018 at the Cosmoprof Awards. It was the only company from the United States to be nominated for any category at this year's awards.
The brand was recognized for Colorwash, a shampoo with Colorposit technology that adds color while cleansing, extending color and decreasing visible washout and fade. It is available in Gem Lites—in traditional shades including four blondes, three reds and three browns—and Viral Colorwash, which comes in seven vivid bold and three pastel color tones.
Related: [video] Cosmoprof Worldwide Bologna 2018 Breaks Records
Additionally, the company recently debuted its Viral Hybrid Colorditioner with BondFix, which it describes as "the first conditioner and color with built-in bond rebuilder." It aims to provide continuous bond strengthening for bleached, lightened or fragile hair, and to protect against dry hair and damage while preventing washout and fade.
Today, Celeb Luxury is available in more than 1,500 professional stores and more than 3,000 salons across North America, Central America and Europe.
The Cosmoprof Awards recognize the most outstanding beauty formulations and finished products. The 582 entries were reviewed by 26 expert international jurors. Winners were selected based on innovation; marketability; marketing impact; capacity of brand building; promotion and cultivating relationships; social media impact; and innovative and outstanding online presence.