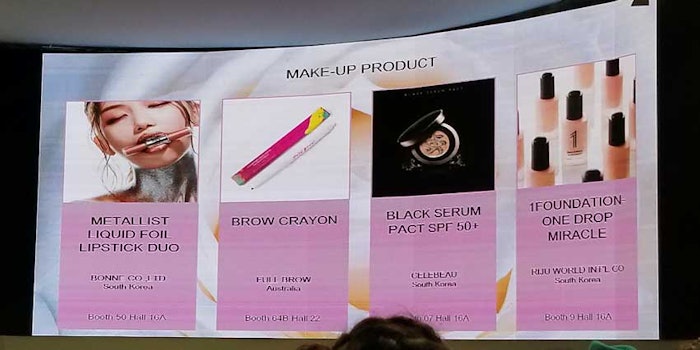 During this year's Cosmoprof and Cosmopack Awards, projects making a big impact on the market and innovation in the manufacturing supply chain were honored, respectively. 
This year 582 entries were received and 26 international jurors—experts from the sector and international opinion leaders—selected the winners. 
Cosmoprof Awards
Makeup Product 
1 Foundation – One Drop Miracle by Riju World Int'l (South Korea); an oil-based and fluid foundation. 
Skin Care Product
Sussh Memory Shape Serum by Warew (Japan); this serum's active metabolites are intended to deeply penetrate the skin contrasting wrinkles, improving firmness and elasticity while the memory shape texture is meant to give a lifting effect. 
Nail Product
Nailfix & Chill by Cosnova (Germany); a nail polish created to be removed "anywhere, anytime."
Hair Product
Celeb Luxury Colorwash with Colorposit by Celeb Luxury (U.S.); a shampoo made to add color to hair while cleansing.
Natural & Organic Product 
Natural Oils with Biodynamic Linseed by Qädyp Perfrance (France); products are made with biodynamic linseed oil—high in omega-3—grown in France.
Best of the Best
Lesielle Adaptive Skin Care by Lesielle Cosmetics (Spain); personalized skin care that was created to evolve with the user's needs and personal preferences.  
Cosmopack Awards
Makeup Formula
Second Chance Mascara Drops by Gotha Cosmetics (Italy); a "mascara life extender" and black color booster in drops, developed to combine multiple treatment properties for the lashes, including restructuring, emollient and hydrating.
Skin Care Formula 
Warm & Cold Program, by Pink Frogs Cosmetics (Italy); a "hot effect" mask created to open the skin's pores and detoxify it followed by a "cold effect" mask to complete the purifying action.
Skin Care Packaging Technology 
Ampoule Dropper by Yonwoo (South Korea); a direct-using dropper package intended for low viscosity bulk, which keeps usability of the soft rubber dropper bottle with the pipette. 
Makeup Packaging Technology 
Bye Bye Brush by Omnicos Group (Italy); a ready-to-use eyeshadow applicator that reportedly turns the

 eyeshadow applicator into the product itself.
Packaging Design 
Graphic Effects Stylographic Pro Eye Marker by Intercos Group (Italy); Stylographic pen tip, inspired by calligraphy, created to draw liquid ink from the internal reservoir to create precise lines for graphic looks. 
The Best of the Best
Second Chance Mascara Drops by Gotha Cosmetics (Italy)
The Lifetime Achievement Award 
Jean-Claude Ellena, exclusive perfume creator-composer at Hermès since 2004, was awarded for his "crucial influence on the development of cosmetics."